Introduction
Creativity and innovation in an organisation plays a vital role in enhancing business operations. It is the key to success which help in managing successful project of firms. The report will be focusing on analysing innovation and creativity of WRG event company. It is one of the leading event corporation which is managing is successful business functions by serving client satisfaction. The report will identify innovation of Firm for the futu
Section 1
Overview of organisation
WRG, is one of the leading event corporation managing its successful business functions with the motive of innovation and client satisfaction. The creativity of organisation is reflected in different of management style and events such as retail -promotion, finance activities, sporting etc. Creative communication is the rationale of firm which demonstrate its successful management of business operations. It employees approximately 150 employees in its different branches that is Europe and US. Thus, the company is running success business functions from last 25 years.
Culture climate and innovation process
The climate of organisation is based on positive work environment where event employee is allowed to communicate with each other. It is the business strategy of environment which helps the firm in establishing leading business environment. However, for innovation the focus of firm is on gathering of different ideas on one specific business project and lastly the aim is to select the best alternatives in order to manage innovation in event (Anderson, Potocnik and Zhou, 2014). The enterprise is focused on managing innovation in services for establishing success innovation with regard to changing clients requirement. The focus of company innovation is on enlightening consumer experience to shape opinions, evoke emotions and serving digital experience to its clients.
Lean innovation model
However, to manage successful innovation and creativity in services, the enterprise focuses on lean innovation model, with the help of this functioning the firm is able to make continuous improvement. In accordance to Olympic event 2032 it can be said that this model will assist the firm in creating new and lively experience of the players and visitors. Implementing use of this model will assist combining four steps altogether where the focus of WRG will be on collaboration of skilled employees to encourage effective ideas with regards to outdoor event. Further, it will help in managing efficient processing and knowledge based creation in event planning (Baer, 2012). In addition, it is the process model which aims at continuous improvement and changes with the helps of which the organisation will set unique changes upcoming Olympic event. Similarly, the model process assist WRG, in strategising plans which helps in boosting performance.
Theoretical framework
The organisation culture, innovation and climate of WRG event corporation is related to organisational culture and leadership concept of Edgar Schien. According to author, shared beliefs and organisational values act as based for the firm in order to manage with dynamic market trends and fluctuating internal environment. As per this belief, WRG is able to manage stability and stability in business functions because the employees are focused on coordinating their efforts towards one direct which is to manage innovation in event activities (Dubina, Carayannis and Campbell, 2012). Like, this concept of shared practices the beliefs the company will able to manage uniqueness in Olympic event of 2032.
The creative culture and climate of WRG is also based on the theory of Gary Pisano where the author has discussed about innovation strategy which act as tonic for the firm because it helps the organisation in managing time, money and beliefs with regard to innovation. In this concept the scholar discussed abut strategic innovation and management which is nothing more than coherence, mutual reinforcement of polices and employees behaviours towards one goal. However, with the helps of this concept and theoretical consideration WRG is able to promote strategic alignment of diverse groups in enterprise by clarifying objectives and priorities to attain one competitive goal.
Section 2
The innovation concept for Olympic event 2032 of WRG, will be based on process of ideation where the firm will focus on analysing strategical implementation in order to manage innovation. Further, the organisation will develop concept for presenting detailed analysis of event to client (Laing and Masoodian, 2016). This is with the motive of attracting customer towards innovation and plans. In addition, the process allows in making detailed design which helps in easy implementation. It also assists in determining effectiveness of innovation plan. Last step is concerned with implementation in which the planned changes and innovation are implemented for testing.
Nevertheless, Olympic events are the activities do not limit innovation because in this organisation holds various trends of establishing innovation like, for the event of 2032, the focus of firm WRG is on encouraging youth participation in order to promote knowledge among people about different sports activities (Klijn and Tomic, 2010). Further digitalisation has boomed the business world, therefore setting digital activities in gaming event will assist in managing successful innovation as per future trends and requirement. Thus, implementing sue of ideation process will help in setting specific set of process which helps in collecting client feedback to innovation management plan of WRG team.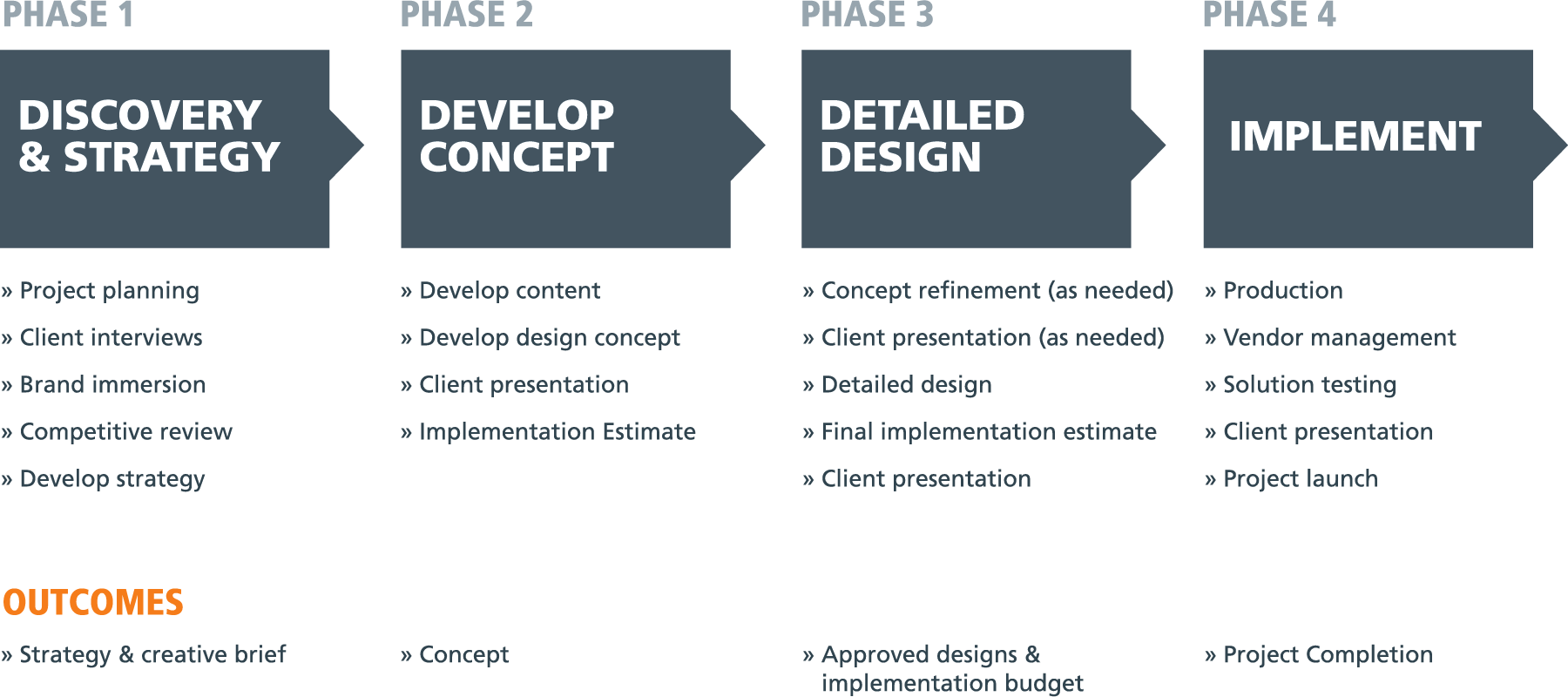 Illustration 1: Ideation Process
Source: (Laing and Masoodian, 2016)

Phase 1: Discover and strategy
In this phase of process WRG will aim at analysing needs of innovation and types of innovation which can assist in managing successful Olympic events. However, in order to discover different ideas and innovation the event tea will be focused on analysing currant innovation trends by conducting client. In interview the focus of team will on analysing view of people on different ideas such as digitalisation of vent where every activities will be digitally acknowledge in order to make access simpler (Stones and Cassidy, 2010). Moreover, in this discover stage WRG will analyse the needs of motivating youth for participating in sport activities. Similarly, the event planners will analyse client views for promoting free entry of handicapped people.
Phase 2: Development of concept
After collection of review and different innovation ideas the firm will draw presentation over the Olympic vent where the team will be focusing in including all the ideas shared. Like the free invitation and entry to handicapped people, encouragement of youth in sports activities with players as an extra session (Amabile, 2016). Further, the team will determine the digitalisation concept like using LED screen in entire auditorium in order to make satisfactory visitor's attraction to sport activities. In addition, the digital security will be managed for establishing safe environment f event. All these plans will be outlined for client presentation in order to make proposal acceptable (Goldenberg, Mazursky and Solomon, 2017).
Phase 3: Detailed design
In this phase, event team of WRG will be focused on refining ideas and presentation in order to work on approved design for final implementation. IN this the team will aim at setting activities according to requirement of client. As per theoretical framework of WRG, than this step the form will aim at analysing time and money required for final implementation to attain competitive goals. However, in this phase the organisation will derive final setup to Olympic event of 2032. This stage of ideation process will help in gaining client interests and satisfaction to further activities.
Phase 4: Implementation
The last of phase of process is implementation of innovation and creative plans which are presented to client. It is the stage of execution which is concerned to project completion. In this, the focus of firm is on vendor management, productions, digitalisation, invitation, organising and product launch as per client expectation. However, in accordance to plan to of Olympic event of 2032, WRG implementation will on inviting handicapped people to visit and show their motivation towards sports. Further, the team will aim at digital security in order prevent safe from crime and terrorism activities. Further, setting of digital screen in order to protect interest of visitors for sports activities (Ekvall, 2016).
Section 3
Aim
" To explore different types of innovation for Olympic event of 2032"
Objective
To promote participation of visitors in sports activities
To invite and motivate handicapped population
To digitalise Olympic event with regard changing innovation trends
Vision
The vision of WRG event corporation is to encourage my maximum youth participation in vent in order to create awareness about sports activities.
Strategy
Market researches for sporting trends and innovation requirement
Collection of client feedback
Allowing free entry to handicapped crowd
Planning prior presentation in order to control and manage innovation according to clients needs for Olympic event 2032.
Monitoring and Evaluation
As per creative plan of WRG, it has been analysed that the firm is basically focused on managing innovation as per current trends and technological advancement. The focus of firm in sat encourage participation of youth and handicapped people. On the other hand, innovation aims at digitalising Olympic event in order to establishing easy access to security and consumer participation (Edquist, 2013).
For monitoring success of event the team will aim at collecting client feedback via ideation process in order to evaluate all the consideration with regards to innovation. Further, for evaluating success of plan the firm will be monitoring success of solution and ideas. In addition, monitoring will be also focused on determining relevancy of collected information which client feedback with regard to event presentation.
Current trends and future trends in innovation
From the analysing the comparative study on the basis of current and future trends. Innovation and creativity is very much distinct and necessary for the new approachable task. Through WRG take better initiatives for further expansion. For that, company takes current innovation by focusing on digital technology and enhancement in business growth (El-Megharbel, 2015). All over, WRG planning to introduce new digital services for the new participants by offering new services such as better visibility, quality, good experience and also give chance to Handicapped persons to show the talent and skills in Olympics games (El-Megharbel, N., 2015). Overall, for that, company needs to make proper strategic plans and process of implementing it in proper manner. Innovation fuels economic and improves the quality of life. It gives better services and better task oriented output level and that helps to connect current present with future growth (Baron and Tang, 2011).
With the help of rapid technological changes are often the most prominent examples such as artificial intelligence, advanced materials, and the digitization of services. Overall, it brings new opportunity and growth in order to take the best oriented goals and technological performance. With the help of this current innovation WRG can also plan to take new growth level to meet the needs of participants level. It takes better opportunity and growth for the company to attract new customer oriented performance goals. Overall, it brings new better opportunity and make better task oriented for the company profitability. With the help of new digital technology and growth oriented process. This will give better growth and challenging behavior. Overall, it brings new better approachable task oriented performance level. With the help of highly technical growth and strategic planning this will help to recover the effective planning for making future more profitable and challenging. Overall, it helps to brings new company challenging growth and innovative productive outcomes.
Conclusion
Innovation and creativity of the organisation is base for successful management for business operations. The report summarized about the innovation with regard to WRG event corporation of UK which is planning innovative Olympic event of 2032. It identified about theoretical framework which derives organisational culture and climate which helps the company in managing creativity in business functions. On the other hand, it determined detailed analysis of Olympic event with the help of ideation process. Thus, it concluded with proposal plan which defined strategy, aim, vision, objectives of Olympic event in order to make comparison between current and future trends of innovation.
References
Amabile, T.M., 2018. A model of creativity and innovation in organizations. Research in organizational behaviour. 10(1). pp.123-167.
Anderson, N., Potočnik, K. and Zhou, J., 2014. Innovation and creativity in organizations: A state-of-the-science review, prospective commentary, and guiding framework. Journal of Management.40(5). pp.1297-1333.
Baer, M., 2012. Putting creativity to work: The implementation of creative ideas in organizations. Academy of Management Journal. 55(5). pp.1102-1119.
Baron, R.A. and Tang, J., 2011. The role of entrepreneurs in firm-level innovation: Joint effects of positive affect, creativity, and environmental dynamism. Journal of Business Venturing. 26(1). pp.49-60.