How You Can Celebrate the Easter Week in Australia
30 Mar, 2018
4257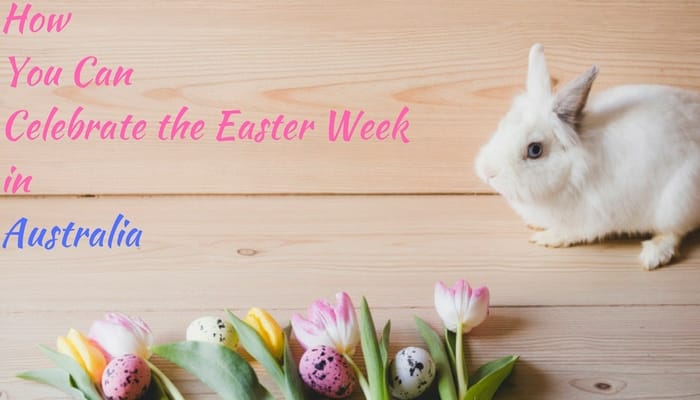 It would be really worthless to sit inside and simply drench yourself in chocolate for four days of Easter holidays. Damn it's the 'Land Under Down'! The island nation celebrates Easter with great fanfare and traditional fervor. This festive all you need to do is make the most of the great Easter celebrations in Australia. The unique Australian way of observing the Holy week should be experienced by everyone at least once in their lifetime. Here are a few things that you should add to your list and plan the week!
Attend Sydney Royal Easter Show
This show is one of the biggest events of Australia, observed annually at Sydney Olympic Park for two weeks including the long Easter weekend. The Sydney Royal Easter Show is part of an old tradition of agricultural shows that are held in several towns and cities across Australia. In these shows, rural and farming communities showcase their livestock and products, thus providing a glimpse of rural life to people living in urban areas. It comprises many competitions as well. So attending these shows will certainly entertain your festival week.
Enjoy Traditional Easter Food
Easter means hot cross buns, chocolate Easter eggs, and pancakes! On Shrove Tuesday, Aussie communities celebrate the feast day by preparing and selling pancakes. Hot cross buns are very popular sweet spiced bread with a white cross on the top. It is sold at almost every bakery in the weeks leading up to the Easter weekend.
Welcome chocolates from Easter bilbies
You might be knowing about Easter bunny, right? But, Australian aspect of the festival is the 'Easter bilby.' It is an Australian alternative to the 'Easter bunny' and supports the bilby conservation movement. Bilbies are small rodents with a long nose and have rabbit-like long ears. On Easter morning, people in the get-up of bilby give chocolate Easter eggs to children.
Catch Blessing of The Fleet Festival
The Ulladulla Blessing of the Fleet Festival at Easter on the south coast of New South Wales is a very old tradition that is still followed with the same zeal. It was originated in Sicily to bless the fishermen to return to the port with a bountiful catch. In 1956, some of the Italian fishermen and their families organized the first Blessing of the Fleet. And, St. Peter was chosen as the patron Saint of Fishermen. You will definitely enjoy this festival a lot, as it comprises various fun activities, including the spaghetti-eating contest, climbing of the greasy pole, apple on a string, greasy pig, etc. However, you will also be amazed to find that how the tradition of the naming of Fishermen's Princess still continues.
More you like: Best Easter Deals on Assignment Help
Many other events and celebrations to relish
There are several other events and celebrations that are held over the Easter holiday in Australia. The diverse and enthralling music festivals, National Folk Festival, the East Coast International Blues & Roots Festival, and the Easterfest, to name a few, are really fascinating to watch. Don't miss 'em! Our assignment help experts strongly recommend you to attend Bendigo Easter festival, it is observed in Victoria and showcases rich native culture. Moreover, while walking along the streets of the wonderful city of Sydney, you will get to see colorful gift galleries with latest stocks of presents for Easter, and you can also enjoy the amazing traditional food. So, don't miss the fun and witness different festivities of Easter in Australia.
It is a four-day long weekend, indeed a great time to take a mini holiday with friends and family. So, relish the festival fun. Wish you a great Easter, Happy Festive Week!
Leave aside all your assignment-related worries and enjoy this festive week to the fullest. You can completely rely on us and place the order for any of your pending assignments. We guarantee to deliver a high-scoring document. And, don't forget to avail the special discount offers we are providing on Easter. Navigate through our website and place you order right away.
You may also like:
FREE Features
Topic Creation

Outline

Unlimited Revisions

Editing/Proofreading

Formatting

Bibliography
Get all these features for
AU$ 121FREE