Introduction
Business strategy would be based on vision and mission of the company which is telling or guiding them to achieve their targets and objectives of firm over time period by analysing what are strengths and weaknesses. This varies from company to company as all of them are having their own internal and external factors which are influencing their working and operational tactics. In this current assignment we would be focusing on the telecommunication network or sector of UK which is the fastest growing sector on worldwide level. This industry is providing service to about whole world and generating £3.8 billion of service in year 2017 there are some major players in the market of UK namely BT, Virgin, EE and Vodafone. In our part we would be focusing on Virgin Media and their business strategies that they are following like what are the internal and external factors of company which are influencing their decision making process. At the end we would be learning about theories and models that are helping company into their strategic planning.
Task 1
P1 Analysing impact and influence of macro environment factors on Virgin Media and its decision making.
Virgin Media is one of the famous telecommunication network provider company which is British company providing service and products to UK and Ireland. It is the subsidiary of Liberty Global and was founded in 2006 having its headquarters at UK with the revenue of about £4.1 billion. Company is providing many products and service to its customers all around UK and Ireland like that of digital TV, broadband internet, fixed line telephone and mobile phones as well. After its formation in year 2006 it was merged with NTL and Telewest and then forming Virgin Mobile UK then the signed a deal with Sir Richard Branson to work under licence of Virgin Brand (Virgin Media Business Strategy, 2018). In the market where it is currently operating is very competitive one as they are having their rivals like that of Vodafone, BT and EE which are amongst the top rated companies of UK operating on worldwide level.
Macro environment would be defined to as all factors which are existing outside the company and that are not into the control of any firm which it is affecting. All these types of factors would not only be affecting one particular company but rather they would be creating its effects on whole region or sector under which firm is operational. There are various factors which are influencing organisation and its strategies which they are formulating over specified time period so that their targets and mission is been followed. There are models like that of PESTLE and Ansoff's growth matrix which are commonly used by company so that they could analysis which are their external factors and what impact they are laying onto firms strategies.
PESTLE analysis:
Political: virgin media face a challenge of government policies in foreign countries like USA (Dessart, 2018). It influenced by the taxation policies, labour law, trade restriction imposed by the political bodies. Its challenging to set a business in foreign due to there licensing bureaucracies set by the government. Virgin media influenced to the increased regulation and control of business operation by foreign government.
Economic: economic factor include economic growth, inflation rate, interest rate charged on capital and investment, foreign exchange rate. Global crises negatively affects the business operation of Virgin Media in recession period. Globalisation and liberalisation of consumer market, increase the cost of production and decrease the level of customer income also affects the business of virgin media.
Social: social factor is important to success of every business because it impact on business by the behaviour of buyers the company is serves a service to their customers according to the, behaviour and social trend. The society is changed according to region and the demand is also increase according to the place and there peoples.
Technological: technological factor relates to technical advancement. It's important to virgin media to upgrade their technology to sustain in market because the competitors are highly technical to the Virgin media and it is loss of the company (Hjalager, 2018). Innovation of technology is must for virgin media to provide quality in the services to customer and also helps in decrease the technological challenge. Use of high quality technology may increase the profit of the company and achieve the goals & objectives of company and individuals. Like if the company is using various marketing tools which could be that of Content Marketing or online tools of social media which is helping them to improve quality and quantity of profits and sales revenue.
Legal: It is necessary to complete some other laws apart from labour law. Legislation issues are always affects telecommunication industry. The market is spread on global level so it is challenging attaining al legislation rules at global level. The market is open door so it import and export is also the increasing the technology and enhancing the profit of company. Law of employment also to increase the level of productivity in market it helps to get the objective of employees and company goals.
Environment: environment factor play a major role in telecom industry because it is connect to everywhere. It can helps to customer at everywhere to helps them for communication. Virgin media operate under the competitive and dynamic environment. It facilitates to its customer by providing services at exceptional and quality material at lower price than its competitors (Murphy, 2018). Communication is general need and want of every person so virgin media helps to provide the services at all type of climate. It is challenging to company because the services of company may be disturbed by the global warming, climate and weather. If there is any kind of natural disaster into country then this would be hampering working and profits of company. Due to heavy rain fall it is seen that network connections are been loosen up which is not allowing customers to use network and effecting sales of company.
Ansoff's growth vector matrix: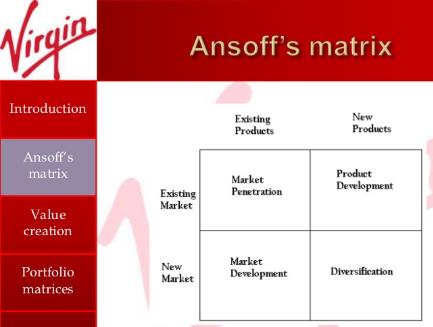 Illustration 1: Ansoff's growth vector matrix: Virgin Media
[Source: Ansoff Growth Matrix, 2018]
This strategic model is underpinned as four specified way to grow or develop the company into market were there are many tough competitors operating into. This particular model would be analysing on products and service of company so that they could easily gain market competitive advantages. Ansoff model is based on how company using their existing products or market and new products or market could be able to grow and develop as that they are gaining profits and ultimate mission of firm (Evens and Donders, 2018). Through this model we need to maximise the strength and minimise weakness of company and its products so that they would easily garb opportunities which are prevailing into market.
Existing market and new products- this first element of matrix would be helping company to launch their brand new products or service into their own existing marketplace which would be that of UK and Ireland only. This is helping them to grow their existing customer base leading to increase in profits and revenue generation of company. This is basically the product development strategies which is used by Virgin so that they could easily launch their new products and their existing markets only as they would be having knowledge and skills of dealing with their customers into that area or region.
Existing products and Existing market- under this element they would be increasing their base of customers with putting extra efforts into their development and research strategies. This strategy would be called to as Market penetration which would be used by Virgin media to capture more customers and that too not introducing any new product to them (Ansoff Growth Matrix, 2018). Company would be doing this by making some suitable changes into features or methods of their products or could also be done using more advertising and marketing functions of that company. Like Virgin Media used new techniques at the time when broadband service of company was launched which was done in order to take over BT and its market share. They also laid down stress on use of good marketing and advertising campaigns which is offering their customers services at cheaper rates.
New market and Existing products- this could be defined to as most effective market strategies which is used by company in order to grow their market share or profits of company (Stål and Corvellec, 2018). Market development strategies deal out with the current products but they are expanding their market into some other region or area. Their target is new market with their already profitable products which are there into market. For instance Virgin media launched their broadband service that was focusing on their existing market customers only so that they would be able to gain higher profits. This was done by utilizing the current customer base and their service in these efforts they initiated to re launch their B2C Virgin Media business to take over BT which is the top rated company in market of UK telecommunication.
New market and new products- this particular strategy is wholly called to as diversification of company and its products which is launching new product into whole new market only. The market or area is new for company with their products or service also being new one but at present Virgin media is only operational into UK and Ireland and not operating into any new market with any products (Ansoff Growth Matrix, 2018). This tells that company is currently not utilising this diversification strategy. Like company could be launching its network in other countries as well which is their new market and new products like that of USA or others parts of world.
M1 Critically analysis macro environment and how this determines Virgin Media strategic management decision.
All these underpinned macro environment factors as per the Heinze, Fenton and Fletcher, (2018) like that of either legal or environmental or that of technological would be affecting the strategic decision making of Virgin media. Like if they would be at any time planning to launch their product into new market then they could analysis and note down all these factors which would be affecting their planning and decision making process as well. For instance if they are not identifying increasing inflation rate or decreasing GDP growth rate of country then they would not be able to set up their price according to them. Turban and Turban, (2018) also mentioned that if Virgin Media is identifying all those important factor that are impacting their business the most then only their decisions could be made properly.
Task 2
P2 Analysing the internal environment and capabilities of Virgin Media.
Internal environment are on the other hand are defined to as those factors which are included within company itself and they could be easily controlled by management of firm. They could be introduced like those which are pointing from company like their management policies, brand value, advertising and marketing plan etc., By word strategic capability it would be meaning that ability of firm that is allowing them to focus on competitive strategies of company and which is helping them in increasing their sales and to survive into market for longer duration of time. So in order to identify which are the factors that are internal for company and that could be used by them to make decisions on strategic capabilities as well (Turban and Turban, 2018). The models which could be used by firms could include like that of VRIO or SWOT analysis both of them are helping Virgin media to determine what are the capabilities which would be used by them to enhance their profits.
VRIO model:
This model frameworks would be used by most of the companies to evaluate their skills, capabilities and resource that are there with them so that they could be choosing and applying them to gain more competitive advantage. Under this model there need to be involve mentioning 4 questions which are to be asked so that company is finding out answer to them and relating that with skills and resource which they are having.
Value- under this question firm would asking themselves that whether they are able to explore all sorts of opportunities that are relevant into current scenario. They also need to analysis that whether all threats that are there into market could be overcome by firm is they having that many capabilities or not (Parast and et.al., 2015). Hence, it is included that are all the resource which Virgin media is having like that of human resource or capital would be capable enough to value or grab all opportunities and limit their threats from market or not. Identifying which factor is helpful for them and which could be regarded to as useless must be important task for them so that it becomes easy for them to relocate their strengths and weakness.
Rarity- this includes the rare or unique feature or skill which only company is having and no one is having that at present. This rarity is forming part of most valuable and important source which only that firm is having and no one other could be making or imitating this but this rarity could be vanished over time period. Thus, helping others to find competitive advantages which once only that company used to have. Like in case of Virgin media they are having 1 unique combination that includes TV, Broadband and fixed telephone line which is having no other reliance of the other competitors.
Imitability- this is the ability or value of companies that factor which is not easily imitable by any other firm into market. The current company is having absolute cost advantage over that product or service of firm and the rival firm could not copy or obtain the same resource or capabilities for their company (Du Plessis and et.al., 2015). As Virgin Media into markets of UK and Ireland are having benefit of quadruple play as they are offering television, mobile and telephone and internet service as well into the market. If any other company into same telecommunication network providers are trying to imitate this USP of Virgin media then they would be need to incur huge cost for this.
Organisation- this is the planning and organising function of management which tells us about that whether company is easily manageable and all their planning are organised or not. If the company is very well organised then they would be easily exploring all their capabilities and opportunities which are there in both external and internal environment. So at first if company is able to recognise their value, rarity and Imitability then they should be capable enough to organise and implement all planning of company in an organised way out.
Strengths:
These need to also identified on the part of company so that they would know what impact strengths are having on their profitability and increased in sales revenue. There are various strengths of Virgin media which are helping them to utilise all their resources so that they can gain more customers (Matt and et.al., 2015). Virgin media is having high speed next generation optic network which is also regarded to as their backbone of company and the greatest strength. Other than this they are also having triple play which is their USP as well having TV, Broadband and Fixed telephone line with having strong 2009 business results. They are also having brand loyalty and recognition into market which is helping into their competitive advantages over other rivals into market. Company is regarded to as providing all solutions for problem of networking to their all type of customers including business and others as well.
Weaknesses:
Other than all their above stated strengths company is also having many weaknesses which are not allowing them to properly grow into market and gaining competitive advantages over their competitions as well. Weaknesses would be defined to as those limitations over the functioning of company that is stopping them to grow over their rivals into market or that reason as to why firm is not able to perform in better way. Amongst them high heaps of debt which company is having on themselves could be regarded to as weakness of Virgin media from which some of them could be that of acquisition purpose. In year 2009 company was having about $676 million of indebtedness which in 2008 was about $8,946.6 million. Due to this factor the liquidity of Virgin Media was affected on larger bases and this was not allowing them to grow in market. They are also not making any efforts in creating or generating any awareness for customers who not obtaining enough knowledge about their broadband service so due to lack of this they are not been able to increase their market share (Meckling, 2015). Virgin Media that is also providing TV to their customers should be concentrating on how to increase their premium sports that is having more of the sports and news channels onto. Company is also not having their connections or networking and broadcasting in rural or semi-rural areas so as compared to competitors of firm.
M2 Critically evaluating strengths and weaknesses of company.
As per the Chen and Jermias, (2014) it was noted that all strengths which Virgin media is having is more than customers as that of their other rivals as they could be concentrating on UK and Ireland market more. Company should be focusing on how to overcome their weaknesses that could be restricting them to their profits and increasing revenue of firm. Sieger and et.al., (2015) said that if Virgin media is concentrating on their broadband service then this could be good way to incorporating their profits. The weakness of company would not be allowing them to grow and develop in markets.
Task 3
P3 Applying Porter's Five Force model in evaluating competitive forces of market of Virgin Media.
Porter's Five Force model is regarded as to tool which would be helping company or whole sector and industry to draw out to what extent factors like that of rivalry, customers, suppliers, substitutes and other new entrants into market would b affecting the profitability or company. At first company should be identifying what are the factors that could be putting stress on their market share and then listing out ways to tackle and handle them all (Sieger and et.al., 2015). So below mentioned are the 5 forces of Porter which are included into model telling the telecommunication sector of UK that what are threats and to what extent company must include them.
Rivalry:
Rivalry is between two company is affect the result to zero profit margin. Rivalry affects the negative result on a company by decreases the prices. Company makes a plan to overcome a problem to rivalry by giving some offers in a market. The reasons behind rivalry between two companies are large numbers of firms in a market. Virgin media also face the rivalry to increase competitors in a market. There are so many companies which are providing same types of services in a market at the same price of virgin media which can be effects on the profit of company. If the price of product is high than customers are moving to some other company. So virgin media has to put their product at low price. High cost of product can be caused of rivalry. Market growth is also the reason of rivalry because the virgin media want to grow fast by attracting customers through their services but some telecommunication company try to increase their market size. There are many rivals like that of Vodafone, BT and EE.
Threat of substitutes:
Threat of substitute is refer to same type of product are serves by other company and it makes competition in market. By the substitutes of product customer moves to another product (Chen and Jermias, 2014). Substitute of product makes loss of company because the company try to retain their customer by sell their product at low margin and it makes loss of company substitute of product is threat to virgin media because it makes competition in market.
Bargaining power of customers:
Bargaining power of customer is power of buyers by which they put firm under pressure. Bargaining power of customer are high when there are so many alternatives and substitute in market and they fulfil the need and want of customer differential and uniqueness in product is necessary to decline the power of buyers power of customer are high when the substitutes offer a product at low price and customer moves to them.
Bargaining power of supplier:
Power of supplier is more when the suppliers are few in market and customers are many but the supplier are many in market to supply a goods and few number of customer in market to consume a product (Bentley-Goode And et.al., 2017). This can be loss for company power of supplier is also described as inputs of market supplier can be refused to work with the firm and charged high prices for unique resource. Advantages of supplier power are to strength of distribution channel.
Threat of new entrants:
This factor is also make huge competition to this company because in this market demands are high and easy to entered in market. There are highly availability to make profit in this industry to attracts the customers. New entrant's give lots of offers to the customers. New entrants have some barriers in the industry are patents, rights, etc., government policy also barriers to new entrants, capital requirement, product differentiation, brand equity, customers, loyalty to existing firm. There are highly barriers in entry in market but easy to exit.
M3 Devising the most appropriate strategies to improve competitive edge and market position based on outcome.
It was included that if Virgin Media is including all 5 force of model so this could be regarded to as good strategy in improving the competitive edge and market positioning of company. They should be majorly focusing on customers and other competitors who are there into market so that their profits and market share could be improved. All these factors is effecting the competitiveness of overall sector of Telecommunication of UK so all other firms which are working into market could be able to cope up into market.
Task 4
P4 Applying range of theories, concept and models to interpret strategic planning for Virgin Media.
Strategic planning is that process which is helping company to define what are their strategies and directions assisting company to allocate their resources in proper manner. It is necessary for all organisations that are working into industry that they are planning and allocating capital and human resources in better and efficient manner so that there is not wastage of them. There are various tools or devices which could be used by firm which is then helping them to formulate strategic planning like that of SWOT analysis, Porters 5 force model and Bowman's strategy clock model (Jocovic and et.al., 2014). All of them would be analysing the strategic directions and options which could be available with Virgin media.
Bowman's Strategy Clock Model: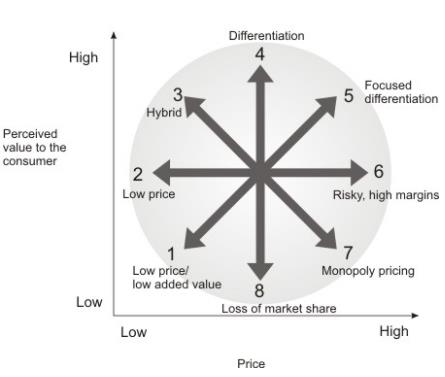 Illustration 2: Bowman's Strategy Clock Model
[Source: Bowman's Strategy Clock Model, 2018]
This model is defined to as that which is used by firm to compare their products and service with their competitors. Under this three of major Porter's strategies are been elaborated so that these could be used into comparison with others into same markets. The clock into this model is considered to as eight possible and important strategies that is divided into 4 quadrants stating to as price and perceived added value. It is always argued that this model is not been able to give clear idea about this competitive advantages of any company or industry as all the 8 parts of this model is not that much clear or precise. Yet here is the explanation about what are the 8 parts of clock model and how these could be used by Virgin media in elaborating Porter's 3 forces from its model.
Position 1: Low price and Low added value- at this situation where company is having low price and very low value added onto their products is preferably not done by them. Company like that of Virgin would not be trying to come into this position where they are getting very low profits due to decreased in their price of products and no value added service or products as well (Bowman's Strategy Clock Model, 2018). This situation would be overcomes after thy are putting effective cost selling volume and attracting more number of customers.
Position 2: Low price- if company is operating into this section then they are having very low price due to their cost and keeping their profit margin low as well. So in regard to over come this situation Virgin Media should be increasing their sales volume which is helping them to sustain into market for longer duration of time. Thus, Virgin if applying that they are selling higher volume of products and service into market they could be gaining powerful force into marketplace. However, if company is not been able to resolve this issue then they could be inviting higher price war into market which is loss to all other companies of industry or sector and useful for only customers.
Position 3: Hybrid (Moderate price and moderate differentiation)- this is major and most important situation into life of company on which they are selling low priced products and service but then also at higher perceived value added. This means that they are giving a lot of things to their customers that too on very low price this is attracting more and more customers towards the company (Bowman's Strategy Clock Model, 2018). If Virgin Media is incorporating this strategy then it is possible that they are providing discounts to customers and maintaining their quality on same time.
Position 4: Differentiation- this is developing that product or service which is giving the company uniqueness and attracting more customers to buy their goods. At the time when Virgin Media developed TV, Broadband and Fixed telephone line which is their USP they were at differentiation stage. At this one branding and brand value would be important factors which are playing role so that they could allow their customers to chose them over others in same marketplace.
Position 5: Focused differentiation- this is both having higher value with the higher price of those products of company which could regarded to as prestigious products of company which are not been affordable for all customers. This type of products can only be included into product portfolio at times when company is doing very good in market and is also build up customer loyalty into marketplace (Bowman's Strategy Clock Model, 2018). All companies which are adopting this type of strategy is operating into highly targeted markets and gaining high margins of profits.
Position 6: Increased price and standard product- this is that time when company without increasing their value of products or any new type of feature they are just raising their price of products and service into market. But how much to increase should be very carefully done as this could be leading to decreased in their base of customer if increased in price is not according to customers. Virgin media if is raising their products price and not increasing any feature or not innovating then there is fear of market failure.
Position 7: High price and low value- this is done at the time when company is having monopoly into market and there is no one else who is selling the same type of product in market. If the company is in monopoly then they could be having high price which could also be providing low value of products to customers even then they would be buying products.
Position 8: Low value and standard price- at this stage any company can have loss of their market share or losing up their customers from current market. Virgin media if they are giving very low value of products and that too at standard price then this would be threat for them.
M4 Producing strategic management plan that is tangible and tactical.
If Virgin media is using any of the above stated tools if strategic manageable then they would be easily gaining market and competitive advantages over others into marketplace (Bowman's Strategy Clock Model, 2018). It is required to be essential that they are using strategic management plan through which they are been able to provide more clear insights of their competitors and customers.
D1 Critically interprets information and data applying environment and competitive analysis in producing valid strategic directions and objectives.
All the above information which is used for internal and external environment of Virgin Media could be allowing them to gain competitive advantages that in producing that whether they are according to directions and objectives or not.
Conclusion
At the end of whole assignment we have concluded that there is need for Virgin that they are more specialising into their USP and other attractive products so that they are easily gaining over their competitive advantages. Bowman's strategy clock model is unable to define correct competitive strategies of any company leading to negative thinking and not justifying anything.
References
Bentley-Goode, K.A. And et.al., 2017. Business strategy, internal control over financial reporting, and audit reporting quality.Auditing: A Journal of Practice & Theory.36(4). pp.49-69.
Chen, Y. and Jermias, J., 2014. Business strategy, executive compensation and firm performance.Accounting & Finance.54(1). pp.113-134.
Dessart, L., 2018. Do ads that tell a story always perform better? The role of character identification and character type in storytelling ads.International Journal of Research in Marketing.
Du Plessis, A. and et.al., 2015. The influence of employees' perceptions on business strategy of small and medium-sized enterprises.