Introduction
Business strategy is defined as a high level plan of an organization, developed to achieve its business goals and objectives easily. These business strategies are developed and implemented effectively in various departments of an organization. The report will determine various strategies related to business used in order to improve performance and increase profitability of the organisation.
Overview and rational
The present report is in context to BT Group plc, which is a leading British multinational telecommunication company headquartered at London, UK. It is one of the most popular companies in UK; it provides various products and services in more than 180 countries around the world. The report will identify both external and internal factors in the business environment affecting BT Group plc directly or indirectly. Various tools and methods will be applied in order to analyze different elements influencing business planning or performance of the telecommunication company. Furthermore, these report will also determine strategic direction of BT group plc for achieving its goals or objectives effectively and efficiently.
Background of BT Group plc
British Telecommunication (BT Group) is one of the biggest communication network companies with a market capitalization of over £13900 million. This organization is operating within the telecommunication industry by supplying various services and products from Voice to Ethernet to Broadband. The BT group is a multinational telecommunication organization which I operating in more than 180 countries worldwide. The BT's headquarters are based in London, UK, providing different services such as IT, computing and communication services. The company has four major lines of businesses; British telecommunication serves residential customers and business by providing network solution and services. Its global service provides services to multinational organization operating in different countries, and their open reach maintains, develop and owns the access network that connect businesses and homes with the networks of communication providers in Britain. The BT Group's overall strategy focuses on standardizing their products and services, since the year 2009 they reduced their variety of products and services from 3500 to 1400. The company is planning to combine their global networks in to one standard network in the future; the aim of this strategy is transformation of cost. The company had to modify its organizational strategy since it entered in to the global market, the BT group started to focus on protecting its dominant market share within UK. The new strategy of the company included diversification in various new markets such as online gaming, TV, IT services, Broadband and voice services.
Task 1: The External Environment
1. PESTLE model for environmental analysis
Keeping in mind the end goal to build focused and evolving condition, each business association needs to investigate environmental factors and evaluate their effect on business movement and capacity. With help of the pestle display, it can viably dissect the outside conditions of BT group. Following are the effect of environmental factor's on the BT group activities.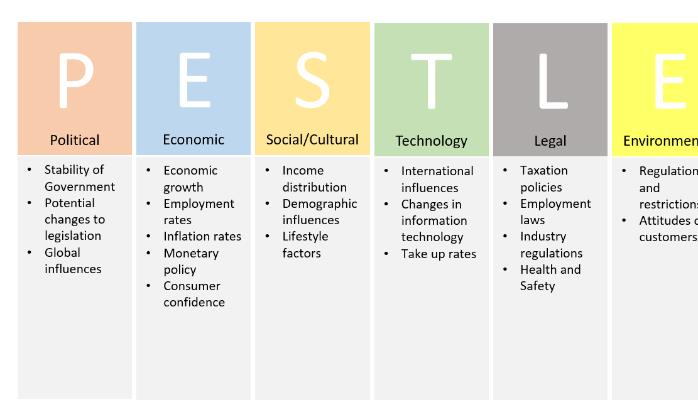 Illustration 1: PESTLE Analysis
(Sources: Chen, Delmas and Lieberman, 2015)
Political factor- This factor assesses policy, regulatory body, and set of principles, administrative acts and legitimate enactment. Keeping in mind the end goal to make due in the business condition organization need to think about this segment. BT group cell phone permit are firmly controlled and its access to the spectrum is constrained. Government arrangement demonstrates that it needs the cell phone industry to make automatic control in connection to content. The legislature likewise share open concern about undesirable contact and substance.
Economic factor-This factor incorporates the expansion and recession rate. Organization ought to have decided the costs of item and administration as per the monetary state. This factor likewise influence BT group as well as economy in different ways such as development of GDP and the level of inflation rate in market share where the organization operates. For example - Interest rates might appear in a range of different places, imposed by a range of different people. It's obvious that the status quo for interest rates is of great interest to banking institutions, but it might also affect companies whose strategies rely on taking out large loans((BaraibarDiez and et.al, 2017).
Social and cultural factor-This factor incorporates purchaser's decision, taste, inclinations, culture and provincial concern. According to the social pattern, loads of take up of cell phones has been down to design and companion weight. Also, the as indicated by the social need, organization need to convey administrations of cell phone. For example - A major sociology-cultural factor influencing businesses and business decisions is changing consumer preferences. What was popular and fashionable 20 years ago may not be popular today or 10 years down the road. Various styles and priorities can undermine long successful products and services. For example, a clothing company must constantly be aware of changing preferences when making new products or it will rapidly become outdated.
Technological factor-Technological factor to a great extent impact to the BT group organization. Changing innovative advancement influences the generation of firm. The cell phone is initially used to the phone preservation and it turned out to be conceivable to swap data among versatile and other gadget by means of Bluetooth innovation. Technological development in correspondence and rise of elective methods for communication, for example, yahoo messenger and online chatting will influence BT group system.
Environmental factor -BT group have built up a handset reusing action that inspire purchasers to discard handset or accessories in a sheltered and dependable route by promoting their arrival programs. Giving motivation to purchaser and by making it simple to return undesirable telephones through prepaid envelopes or reusing focuses inertial outlets.
Legal factor- BT group worried about the offer of merchandise act 1974 expressing that all items must be fit for the reason they are proposed. In this factor incorporates some work a customer's rights and feline which should considered by BT group. For example, Brexit could be one of the biggest factors contributes to change many legal obligations. The roaming charge and overall contract ( legal obligation could be changed) may have impact on their strategies to expand businesses. Employment law, also known as labour law, dictates how companies' employees should be treated. Minimum wage laws can limit the various different employment possibilities a company can offer, child labour laws can affect the way tight-knit home businesses in third world countries operate, and dismissal laws can make firing employees
2. Ansoff's growth vector matrix
Ansoff provides a road map for the organization in order to grow and develop, whether they are entering into new market or launching a new product in market. The road map is presented in the form of a matrix which consists of four steps with the edge of market and product being the most important element of the strategies.
The various steps of Ansoff's growth matrix are mentioned as below -
Market penetration – The first step of this matrix states that the company should put sale on its existing products in the market existing already. The British telecommunication can utilize this marketing strategy to improve its performance and profitability. Market penetration can help British Telecommunication in developing strong market position by providing existing products and services to their customers.
Product Development – Under this concept, of product development an organization develop new products and services within the existing market in order to obtain effective benefits. British Telecommunication needs to develop new services and features along with the mobile handsets for earning effective results or outcomes.
Market development – This is another effective concept by Ansoff, according to this concept a company launch its existing products or services in new market. British Telecommunication can enter or switch into a new market in order to gain competitive advantages and increase its profitability
Diversification – Diversification includes launching new products or services within a new market. Diversification simply means to develop diverse types of products and services to enter or switch into a new market to attract new customers. This assist and supports BT group can enhance its market share and number of customers.
Task 2 : The Internal Environment And Organisation Capabilities.
1.Strategic Capability
Each and every business or organizations compete with one another in order to gain new customers, revenue and market share. The organizations apply various tactics according to effective strategies. Strategic capability refers to the ability of a business to implement competitive strategies successfully so that it can help in surviving and increasing the brand value. Business strategic capability is a leading element that support and help in achieving growth or development despite the presence of intense competition in the market. Every organisation needs to invest their money and other resources in the best possible area so that it can generate maximum output beneficial for the company or organization.
2. VRIO model
With a specific end goal to maintain in the focused business condition, it is essential for the association to investigate its inside ability and competency. Inner capacities and skills is straightforwardly connected with the hierarchical assets. In this way, the model and system of the asset based esteem can help to the imprints and Spencer with a specific end goal to increase successful learning about the upper hand. With help of VRIO show, inside assets and capacity of the refered to wander can dissected. This model are as per the following-
Value - Value alludes to the term which characterizes the organization esteem which offered to the customers in the market. In a straightforward word one might say that esteem characterizes that phrasing which used to decide the organization's ability and skills Assets are significant on the off chance that they help association to improve the esteem offered to the clients. Estimation of the business before the customers can upgrade by improving separation among the item and administrations from its rivals and diminishing the cost of the generation and assembling. With regards to BT group, it has extraordinary incentive in the market as it serves the high caliber of item and administrations in the market. Because of its superb, reasonable costs and development, its have tremendous esteem which separate its item from its rivals(Hughes and et.al, 2016).
Rarity - what's more, irregularity is another component on the VRIO demonstrate which characterizes that organization's item and administrations ought to be uncommon so as no other association can create same item and administrations. In the market while in excess of couple of organizations have a similar asset or capacity then its outcomes in focused equality With regards to BT group association it has high caliber of administrations and item since it is contracting high qualified and experts workers who gives their best commitment in accomplishing the association objective. With help of the high caliber and particular workforce, nature of administrations of BT group is exceptionally profitable and improve which no other association deliver. Along these lines, one might say that with help of successful gifted workers referred to wander have grown high caliber of administrations and item inside the market and pull in the expansive quantities of customers. Besides, Cited wander additionally utilizing powerful and high caliber of innovation and gear through which it delivers the viable and high caliber of item and administrations. With help of innovation and hardware, organization creates such powerful item and administrations which have not no other association delivered in the market(Chen and et.al, 2014 ).
Imitability- Imitability is another component which characterizes that organization have significant and uncommon asset that can accomplish at any rate brief upper hand. Likewise, the asset should likewise be expensive to mirror or to substitute for the contenders. This is such premise capacity of the association by which organization can enhance its current position and picture in the focused business condition(Spender and et.al, 2014).Imitability is that quality of the association which characterizes that company;s item and administrations is interesting and separate from its adversaries in the market. While organization have powerful item and administrations which have no different organizations then it is known as the imitability of the organization. With regards to BT group, it has remarkable highlights and separation in its items and administrations which have not in other organizations' item and administrations. In this manner, one might say that BT group have high and incredible imitability as contrast with the other association in the retail business.
Organization - Organization is another of the noteworthy component in the VRIO show which characterizes that how much association is compelling and potential. According to the examination it has been discovered that BT group have powerful position in the market by which it has viable development and piece of the overall industry. Accordingly, one might say that as the purpose of asset based esteem, BT group have viable assets through which it has extraordinary position in the market. What's more, from the review it has been likewise established that BT group have powerful piece of the overall industry and development rate the retail division as contrast with the other enterprise so one might say that organization is utilizing viable innovation, framework and human asset by which it can successful achieve its decided target(Pisano and et.al, 2015).
Key Capabilities-
VRIO Analysis The VRIO Analysis is an explanatory method which for every sort of asset consider a few assessment measurements for the enterprise and in addition for its rivals.
Important This is alludes to the estimation of asset which utilized by the organization. With regards to BT group utilizes a magnificent quality on inward assets through which it produces separation and prompt upper hand in the market.
Uncommon Rare and important assets allow impermanent upper hand. BT group uses such assets which is obtained by one or not very many organizations.
Exorbitant to impersonate An asset is expensive to copy if other association that does not have it can mirror, purchase or substitute it at a sensible costs. BT group have profitable, uncommon and exorbitant to copy assets can accomplish supported upper hand
Composed to catch esteem A firm should sort out its Management framework, structure, strategies, procedures and culture with a specific end goal to get the benefit of the significant assets. BT group have very much overseen structure, framework and culture so as it can use its asset esteem in a fitting way(Martinez-Simarro and et.al, 2015).
Esteem chain investigation -Esteem chain is a chain of capacities and exercises through which partnership can convey an important item or administrations in the market. Following are assessment of BT group association by utilization of this model.
Essential Activities
Inbound Logistic-These are the exercises worried about getting the material from suppler, putting away, these remotely sourced material and taking care of them inside the firm, BT group have incorporated warehousing.
Tasks It incorporates the whole business activity, for example, creation, producing, organization and so forth. BT group have huge unified exchanging servers.
Outbound strategic It incorporates the exercises of disseminating the last item and administrations to customers . BT group receive both on the web and disconnected channel of dispersion. It likewise offers home conveyance choices to its customers
Advertising and deals It incorporates investigation the necessities and needs of customers and is in charge of crating mindfulness among target customers . BT group have received online deals and promoting.
Administrations It incorporates after deals administrations. BT group gives online administrations and support.
Steady Activity
Acquisition This capacity incorporates the creation and assembling material and semi complete merchandise. A productive acquirement division should ready to get the most elevated quality merchandise at the least costs. BT group embraced unadulterated Central promoting and it has magnificent w\quality of obtainment framework(Klettner and et.al,. 2014).
Human asset Management It is identified with the talented and quality workers. Under this incorporate enlistment, preparing and remunerating arrangement of company. BT group have expansive quantities of qualified and expertise representatives which help with creating powerful results.
Mechanical improvement It incorporates the mechanical innovation, and correspondence process. BT group have 2G, 2.5G, 3G, 3.5G, 4G.
Firm framework It incorporates planing and control arrangement of association. BT group have modern IT framework.
Task 3 : Analysing The Telecommunication Sector
Porters Five Force-Industry Analysis
BT group current business system is to develop through geographic extension, securing of new customers, maintenance of existing customers and expanding the use through advancements in innovation. With help of the five power model of rivalry, organization can examinations its present condition build the market and survey the impact of rivals in the business activity. Porter's five forces is a tool for analyzing the competition of businesses. It is a instrument which explain that how company are able to sustain in different levels of profitability. Competition, intensity, attractiveness and profitability of industries are measure by five forces of Porter's model. It draws from industrial organization (IO) to conclude competitive industries. BT group is building sustainable competition advantages in varied communication service industries. Managers of BT group within varied communication industries is using Porter's Model to develop a plan of action to make position and exploring profitable opportunities.
Following are five noteworthy qualities through which BT group can survey its opposition in the market-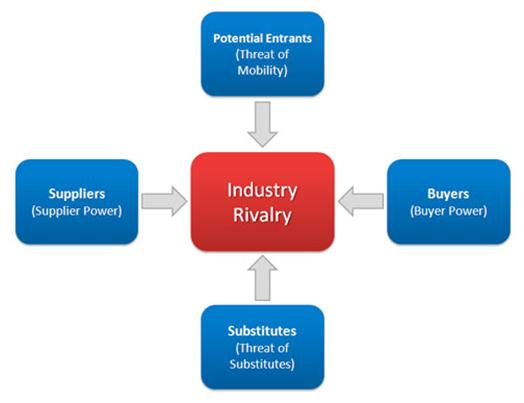 Illustration 2: Porter's Five forces
Contention with existing contenders BT group's situation as cost pioneer in the market. It is a media transmission partnership with the goal that it have vast quantities of contender yet at the same time it has third position in the telecommunication business.
Bargaining power of purchasers - Buyers are always needy. They always want to buy fresh and new things at nominal possible price. In the long run the profitability of business of BT is pressurized. The increasing discount offers and high bargaining power of consumer is most powerful base of BT group. There is cut throat competition in the market which makes customer to give bargaining power to buyers. The customer base of BT group is very strong compare to other. So there will b no loss if anyone or two or more leave the product or services of BT. If company meetup the bargaining requirements of buyer than there will be no issue. The innovation and changes in telecommunication industries are also so fast but still BT is keep on coming up with new and innovated products and services hence the bargaining powers of buyer is limited. The bargaining powers of BT Company is quite limited because of its position in the market. BT is maintaining high numbers of buyers in the market which helps company to streamline its sales and manufacturing process. BT group when innovate fresh product and introduce in the market by offering discount to the buyer which also controls the bargaining powers of company. The bargaining power of purchasers are solid in light of the fact that there are loads of rival in the market however BT group will keep on profiting at better than expected return contrasted with its nearest rival(Leonidou and et.al, 2015).
Bargaining power of suppliers - In the Diversified Communication Industries, all most all the companies buy their raw material from many suppliers. Dominant position of suppliers can decrease the margin of BT group. The suppliers of technological sectors are much powerful than other as they charge high price from BT group. Their are muscular suppliers in technological sector use negotiating power to pull out high prises from the firms working within Diversified communication industries. The high bargaining powers of suppliers increases the cost of products and services of BT or lowers the overall profit of company. BT is controlling the bargaining powers of suppliers by maintaining relationships with chain of multiple suppliers. By maintaining chain of many suppliers, if the price of raw material increases than company can shift to another. The suppliers chooses by BT group is dedicated to the organization. BT group has maintaining the bargaining powers of suppliers by trading with number of suppliers of raw material. Any suppliers wants to trade with BT company cannot able to do bargaining because company has numerous suppliers. Many suppliers exert pressure on the BT by increasing price or lowering the quality of products but BT has quality to control there prices by keeping chain of numerous suppliers. Suppliers of the versatile media transmission industry are solid on the grounds that by a being taken a toll pioneer, BT group works with edges more prominent than its rivals, which thus enables them to retain cost increment from its providers simpler than its rivals.
Potential Entrants- BT group is the world biggest organization which have third position in media transmission industry. With the goal that danger of new participants is frail, BT group must keep on reducing costs beneath that of its rivals.
Item substitutes- BT group faces a low danger of item substitutes. The engaged cost authority technique that BT group works under makes it troublesome for a practically identical substitute to be created at a lower rate by their incredible utilization of economies of scale, their purchasing power and their assimilation of transitory cost increment that originate from providers that don't should be passed on to the shopper.
Task 4 : Understanding And Interpreting Strategic Direction
Bowman's Strategy clock model
The Bowman's Strategic clock model is a model that helps in identifying effective options available for strategic positioning for example the position of a product should be decided in such as way that it obtain the most competitive position in the market. The main purpose of the Bowman's strategic clock is developed in order to illustrate that an organization will have a wide range of options regarding position of products on the basis of two dimensions perceived values and price (Olson and et.al, 2018).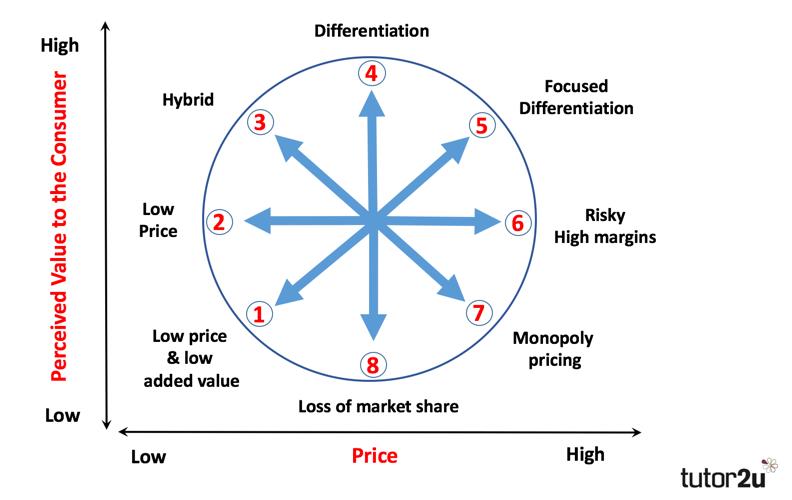 Low price and Low value(Position 1) – This is position is not much competitive for a business or organisation. The product is not differentiated and the customer perceives little value despite a low price. This also known as bargain basement strategy which states that any organisation can remain competitive by offering the cheapest products to the customers.
Low Price (Position 2) – Organizations are positioning themselves at this position to be the low cost leaders within a marketplace. In order to achieve success from this a strategy of cost minimization is needed, which is generally linked with economies of scale.
Hybrid (Position 3) – This position includes some element of low price as well as some differentiation in the products. The objective of this position is to show customers that there is good value added through the combination of acceptable product differentiation and reasonable price.
Differentiation (Position 4) – The aim of differentiation position is to offer the highest level of perceived added value. Product quality and branding plays an important role in this strategy.
Focused Differentiation (Position 5) – This strategy focus on positioning a product at the highest price levels, where customers purchase the products due to high perceived value. The Focused differentiation strategy adopted by luxury brands who focuses on achieving premium prices by highly targeted promotion, distribution and segmentation(Johnson and et.al, 2016).
Risky high margins (Position 6) – This is a positioning strategy with high risk that can lead to failure eventually. The organizations set very high prices without offering anything extra related to perceived value.
Monopoly Pricing (Position 7) – There is only one organisation offering the products in a monopoly market. The monopolist does not need to be much concerned for the value that customers perceives in a product – the only choice that remains with the customers is to buy or not to buy the product.
Loss of market share (Position 8) – This position includes a standard price or middle-range price for a product with low perceived value is unlikely to win over many customers who may have better options or choices.
Strategic Recommendations
Keeping in mind the end goal to actualize the merger and procurement technique in the new market, BT group have requires centering around the limited time and deals exercises change. Organization's diverse office have distinctive parts and duty all together best execute new market system in the Asian market. The most imperative parts and obligation of advertising director who is mindful to expand deals exercises and embrace such creative and recognize special methodology. Different parts and obligation of various Management level are as per the following-
Top Management with a specific end goal to execute the methodology of market advancement in the Asian market, BT group will embrace the merger and procurement showcase passage system. Top Management is profoundly dependable to actualize this key arrangement. Top Management have obligation to create viable arrangements and working practices for representatives so as each one can comprehend the objective of organization in the new market. Additionally, top Management is likewise at risk top set up the financial plan and cost anticipate different exercises like deals exercises, limited time exercises and so forth. What's more, director of organization is likewise dependable to set its vital and money related report. Management will create the budgetary report and graph for deals and cost.
Middle level Management - Middle level Management have significant target is to facilitate workforce as indicated by organization objective. They are mindful to associate lower level Management and best level Management. To actualize the vital arrangement, center level Management can allot the different task and obligations to representatives and laborers(Scholes and et.al, 2015).
Lower level Management - This division incorporates representatives and specialist whose are capable to complete different exercises and capacity of association. They are associated with the every bureau of association and satisfy their duty as indicated by given day and age As per the above discourse it has been found out that BT group's different office like best, center, bring down have different parts and obligation keeping in mind the end goal to execute vital arrangement for go into the new market. With a specific end goal to actualize the key arrangement SMART Objectives is essential. Keen means particular, quantifiable, task, practical and time related.
Particular Specific alludes to focus on a particular zone for development. BT group have targeted to enhance its current position of business by creating in the new market.
Quantifiable BT group needs to increment 10% benefit and 10% deals.
Reasonable It states results or results ought to be practical. It implies BT group ought to accomplish its required outcome in genuine way.
Time related-It alludes particular day and age under which organization needs to accomplish its coveted outcome. BT group needs to increment 10% benefit and 10% deals in consistently in the Asian market .
Conclusion
The above report concluded that business strategies are very important for each and every organisation. Effective strategies helps in gaining competitive advantages in a market as well as support in improving performance as well as profitability. The report identified various external and internal factors which are affecting business functions and strategic planning in British Telecommunications. The report included various analysis tools such as PESTLE, Porters-five-forces etc in order to identify the factors affecting business operations of BT group plc. Furthermore, the report also determined various strategies that can be adopted by the organization in order to gain competitive advantages and sustain a leading position in the telecommunication industry.