Poetry Analysis Essay: How to Become a Pro at It?
14 Sep 2022
547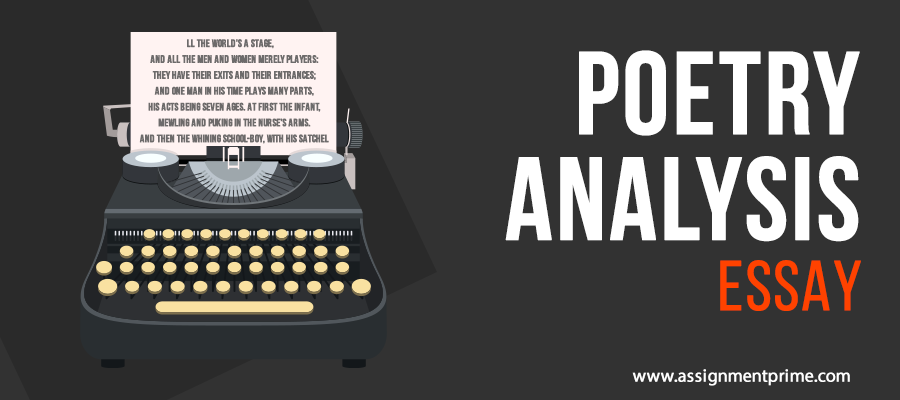 There are mountains and valleys far somewhere,
And there are clouds and rain that seem so near,
I feel mixed emotions like a smile on my face or a silent tear,
Every time I think of the God who created all this, and I fear,
From how could He do so much and all we return is more pain to bear…
This simple poem has an in-depth meaning that can or cannot be understood by all. But usually, when students are studying Literature, they come across some tasks such as poetry analysis essay writing where they are needed to read the write-ups, understand the essence and then conduct an in-depth analysis and write an essay based on it. But if you are new to this concept and have no idea what this is all about, then keep reading this blog for more details!
Poetry Analysis Essay: An Insight Into It
The simple 3-word term- Poetry Analysis Essay is a piece of writing that students, especially those from a Literature background, are asked to write and submit to the professor to get their degree. It includes:
Critically review a poem
Reflecting on the poem's depth
Presents the subject of the poem
Introduces the theme and tone
Explains the poet's feelings and perspective
More to this contributes to finally presenting one's understanding of a poem in the form of an essay. Wondering how to write one? Read the below section!
How to Write a Poetry Analysis Essay? [3 Steps]
If you are planning to write a poetry analysis essay, then simply follow the three-step process suggested by the best cheap essay writing service . Assignment Prime:
Step 1: Choose a Topic
The first step of writing an impressive essay is choosing a topic of your interest. This is crucial because if you make any mistake here, you will get in trouble. So, to help you make this step an easy-going process, here are a few examples:
Features of Prose
Sylvia Plath's Poetry
Shakespeare's Sonnets
Brief on Japanese Haiku
Relation of Poetry & Feminism
Step 2: Prepare an Outline
The second step of this process is to prepare an outline of the essay to have a clear path to follow. This will thus help you keep away from any distractions that can impact the essay. Here's the ideal outline you should follow:
Introduction: In this section, you give a brief on the poem's title and introduce the poet.
Body: This section is for the actual analysis, references, and supporting evidence on the whole poem.
Conclusion: In this section, you summarize your analysis and mention the key points.
Step 3: Write the Essay
Now that you have a clear title and a set outline to follow, here you start the actual writing process. It includes:
Begin with reading the whole poem multiple times to understand what the poet is trying to convey through this poem to the audience. Then, analyze the poem from multiple perspectives to get the best and satisfactory outcome.
Write It Using Simple Language
Once you get what you want from that poem, it's time to present your understanding of that poem to readers. So, go for a simple and easy-to-understand language that can clearly convey your perspective to the audience without any hassle.
Edit and Proofread It Before Submission
This is the final stage where you go through your essay one last time for errors before submission. The mistakes can be spelling errors, grammatical mistakes, typos, and so on, which hamper the actual meaning of the sentences.
A student should follow three simple steps when drafting a poetry analysis essay. If you are new here and have no idea how to analyze a poem, read the below section to know in detail!
How to Analyze a Poem & Write About It in Essay?
You need to analyze a poem closely and in-depth when writing an essay on it. And while doing that, you need to follow the below-mentioned steps:
Step 1: What Are the Things You Need to Consider for Analyzing a Poem?
What is the theme of the poetry?
What language is used in the poem?
What sound & rhythm are followed in it?
What is the final framework used in the poem?
What is the actual context of the poem?
Step 2: What Are the Steps You Need to Follow When Analyzing a Poem?
When you are drafting an analysis on any poem, then you should make sure to follow these simple steps:
Read the Poem - The first step in this process is to read the poem. Do this multiple times to get better at it every time and get a clear understanding.
Understand the Title - Often, students ignore this but focus on the title and what it is trying to convey to the audience.
Know the Speaker - A very important step is to know the speaker and look into his previous works to better understand his thinking and perspective.
Observe Mood & Tone - It is important to understand the tone of the poem and explain the mood set for this piece of writing.
Get the Poem Theme - See the big picture and understand the actual theme of this poem.
Step 3: What to Include in Which Section When Writing a Poetry Analysis?
Since you have all the information about the subject and theme ready, it's time you write the essay, and for the same, you need to know which section of the essay should include what information. So, here's everything about it:
Introduction - You provide a brief of the poem, poet, and theme in the essay's introduction section.
About the Poem - You include the poem like theme, mood, tone, similes used, and other details in the first section and provide evidence of the same in the second section of the body part in an essay.
About the Poet - You can include some basic details of the poet, like his name, previous works, his perspective, approach, etc., in the third section of the essay.
Your Understanding - You can dedicate one last section of the essay to understanding the poem and the poet. This is to present your genuine opinion.
Take-Away - The conclusion of your essay highlights key points and includes any takeaway from the whole poem for the reader.
These are the three simple steps to analyze a poem for writing a poetry analysis essay. If you are still facing any trouble or doubts, go through the examples mentioned in the below section!
2 Poem Analysis Examples for College Students
If you are a college-going student who is asked to draft an analysis essay on poetry, then you would be wondering what to do and how to write one, right? In that case, read this blog while considering the poem analysis example ideas below, and you will get a clear picture of the whole process that can help you!
"Bean Eaters" by Gwendolyn Brooks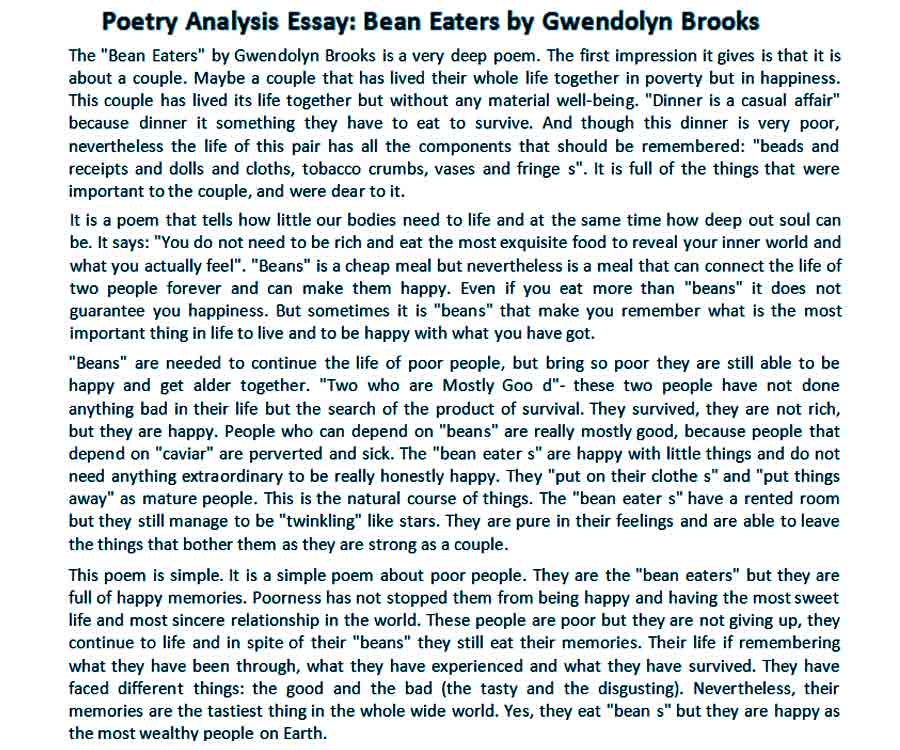 "The Mother" by Gwendolyn Brooks
These are the two top examples that you can refer to whenever you are in need of motivation. But if you are still facing any issue or running out of time, you can seek experts' help online; surprised? Wondering who can help you? Read below!
Who Can Provide Poetry Essay Help to Me? "We Can"
One common query of students when it comes to a poetry analysis essay is, "Who will provide essay help if I get stuck?" If you also have a similar query or are struggling with a similar thing, turn to Assignment Prime's subject experts. We have a professional team with years of experience who deliver top-notch quality work. Our writers, researchers, editors, proofreaders, and quality analysts deliver flawless and plagiarism-free work right on time and at the most affordable prices.
We understand the struggles of students, thus to help them, we provide amazing discounts, exciting offers, and interesting freebies like free title selection, free reference page, free editing and proofreading, free Plagiarism report, and so on. So, what are you waiting for? Reach out to our experts at the earliest to not miss any amazing offers and get the best quality essay delivered to you. All the best!
You may also like to read
"How to Write a Personal Statement?" Here's What Experts Have to Say!
Permutation Vs. Combination: So Similar But Yet So Different!
25+ Creative Writing Prompts to Help You Break Your Writer Block!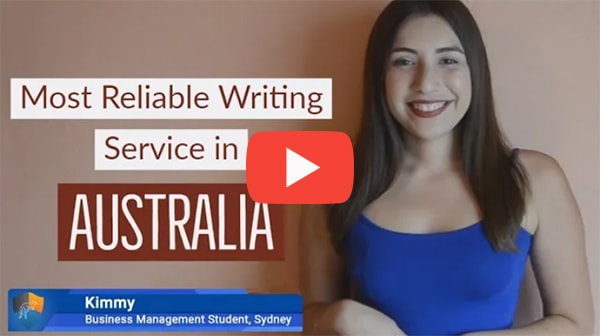 FREE Tools
To Make Your Work Original
FREE Features
Topic Creation

Outline

Unlimited Revisions

Editing/Proofreading

Formatting

Bibliography
Get all these features for
USD 84.3FREE