International management is a kind of process that generally consists of some strategic activities and functions which help a business to expand its market in the concerned areas. It is essential that the management team of concerned business should follow and implement each and every function effectively in order to gain desired profits (Griffin and Pustay, 2012). The report is providing information about structuring of international management strategies. It includes understanding of factors that are highly essential and linked with the process of making international plan.
Company Background – TESCO PLC
Tesco PLC is one of the leading grocery companies which offer high range of products and general merchandise goods in international market. Cited company is a British Multinational firm that has its headquarters in Welwyn Garden City, Hertfordshire, England, United Kingdom. It is the the third largest retailer in international sector in terms of making profits as well as second biggest retailer in the world for earning revenues. The business of cited company has expanded their 3,000+ stores in various countries within six formats. Asia and Europe is the main grocery market for Tesco which helps them in gaining high market share of 30.2%. Specified company has established their business in 12 more countries by the year2015. This proves that expanding the business in the foreign markets help company in gaining high of benefits and revenues which improves their investment power and overall development.
We are Here to Help!!! Take a quick look at our quality assignment samples written by our expert writers.
Introduction – Australia
Australia is situated in between India and Pacific Ocean with a group of small and big islands which is having great natural habitats and species that attracts a lot of visitors and tourists. The capital of cited country is Sydney and list of major cities includes Brisbane, Melbourne, Perth and Adelaide. Rising population and spending abilities of nation's residents have helped many companies to start their business in the Australian market. However, Australia is a developed country which is also ranked among the top ten wealthiest countries in the world. Australia is positioned at 12th place in the list of nations with largest economy. Moreover, it is popular for being as the world's fifth country which has highest per capita income. All this allows the nation to maintain their position of second highest human development index in the global sector. For many international comparisons for assessing the national performance, Australia is known for maintaining quality of life, health & safety, education & technology, economic freedom and the protection of civil liberties and political rights (Retailing in Australia, 2016).
Political & Legal Analysis
Political analysis is a process which mainly focuses on identifying the factors that affects the business and overall functioning in national as well as in international sector. Generally, political factors have indirect impact on the business which affect them to earn high value and attention from the market (Boussebaa, Morgan and Sturdy, 2012). Political factors include the elements related with governance procedures, risks, stability in relationships, connectivity with other countries, etc. In that context, it is crucial for a foreign company to identify and analyse the information about political factors and elements that can affect their business and overall working in the areas. A foreign company always has an aim of developing ways to attract overseas customers and public in order to mark a better presence in the market that helps them to earn higher profits and other benefits from the sector (Articles on Australian politics, 2016).
Tesco is placed as one of the strongest contenders in retail and merchandise sector which is mostly known for their effective pricing and quality of products offered to the clients. This attraction assist the firm in earning large revenue and market involvement which eventually directs them to expand their market in other foreign countries (Mellahi and Frynas, 2015). Tesco is planning to establish its business in Australia which has attracted many other multinational companies to enlarge their market so that they can gain higher income. For this, they should consider, assess and address helpful information on the basis of following aspects which would guide them to further international strategies of market enhancement:
The type of government and its significance – Government is the most effective and connecting element that relates a network with their country to rest of the nations. They are responsible for the overall development and advancement in country. Australia has stable and parliamentary federal government which is divided in three sections namely legislative, judiciary and executive (Marschan-Piekkarin and Welch, 2011). Apart from that, political relations of Australia is stable with most of the countries.

The role of government in the economy – Federal governance of Australia plays a vital role in developing their relation with other countries for maintaining economic conditions and position in the world wide aspect. For this, political party of Australia has implemented various policies and procedures that help them in attaining better economic values in return of resources gained by companies (Scullion and Collings, 2011). Taxation policy and import-export terms have supported the nation as well as foreign companies to set up their business and concerned market in the sector.

The level and impact of corruption – Due to high restrictions and strict legal framework, incidences of corruption are quite less which allows every section of market bodies to earn high values and revenue for their support and efforts (Ball and et.al., 2012).

Political stability and risk – There are mainly two government parties that are the Australian Labor Party and Coalition which mostly forms the groups in country. There is a stable relationship with every neighbouring country of Australia (Clarke-Seng and Whiting, 2011).

Legal framework of the country (i.e. civil or common law system) – Australia is among the most preferred nations for foreign companies to expand their business and market which results them in better opportunities and overall benefits. Common law system of country allows the person to have high spending power.

Import-Export policies and system – Australian government has maintained their approach of implementing better strategies and policies for the foreign companies like Tesco over their entire imports and exports done in a certain period. Their aim is to generate a strong control over their business activities along with resource empowerment (Dellinger and et.al., 2013).
Economic Analysis
Tesco, UK is going to operate in Australia and to get high success in the future, it is important to know about the economic analysis of nation. In this context, some aspects of following country in terms of economic position are as follows:
The economy of Australia is one of the biggest mixed market economies in the world. Till 2015, the GDP of AUD was $1.62 trillion. In terms of importer and exporter, it comes at the position of 19th at international level. The Reserve Bank of Australia publishes quarterly forecasted economy of country. The major dominating sector of Australia is service sector which gives 68% contribution in GDP. But in the reality, economic growth of nation was highly dependent on the mining industry (Martin, 2012). In the present time, economic growth is about 3.1% GDP. By comparing it with the forecasted value, it has been found that Australian GDP beats the forecasted figure. So, from this analysis, it can be said that Australia is experiencing high economic growth rate as compared to the other nation in world. The below figure shows Australia's GDP growth rate of last three years which define the growth level of economy of nation (Vom Brocke and Rosemann, 2010).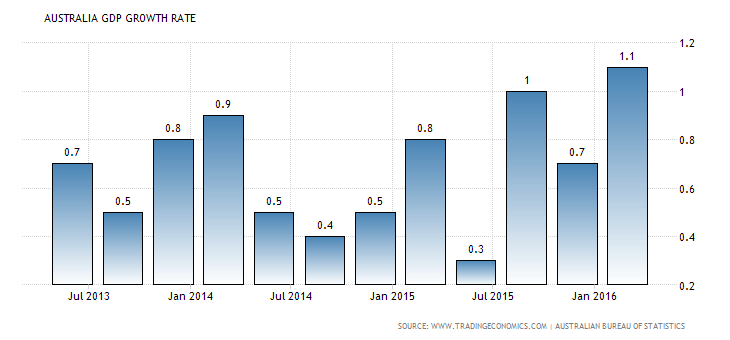 Figure 1 Economic growth of Australia
(Source: Australia GDP Growth Rate, 2016)
On the other hand, if inflation rate of Australia is taken into consideration then it has determined that between the years 2006 and 2015, average inflation rate is 2.63%. Consumer prices in Australia rose by 1.0% through the year of June quarter of 2016 from 1.3% in the previous quarter. It was slightly below the market consensus (Australian Inflation Rate History - 2006 to 2016, 2016).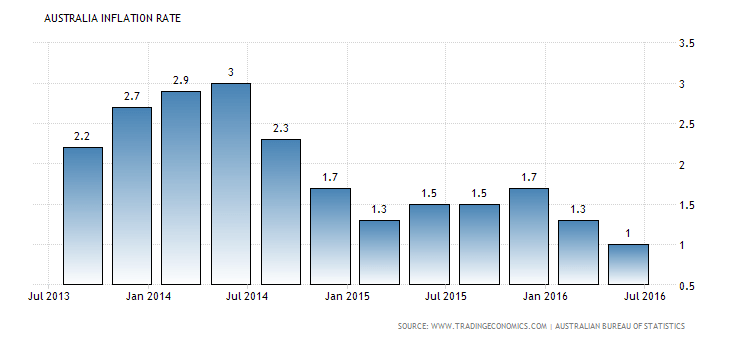 Figure 2 Inflation rate in Australia
(Source: Australia Inflation Rate, 2016)
GDP (Gross domestic product) per capita is a measure of average income per person in a country. With the help of this, National income and expenditure can be assessed. Australia's GDP per capita was recorded at 54717.71 US dollars in the year 2015. This GDP is equivalent to 433% of the world's average. From 1960 to 2015, the average Australia GDP was 35504.35 USD.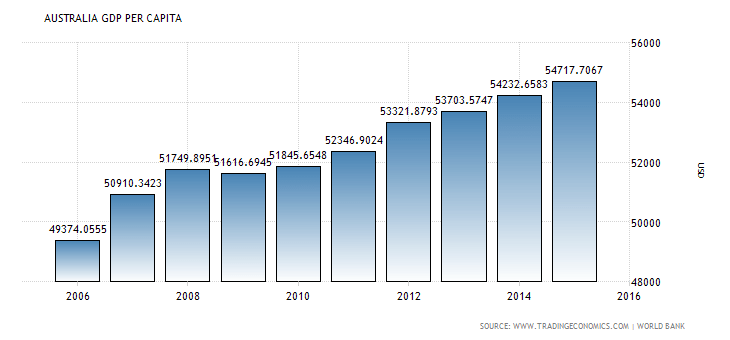 Figure 3 GDP per capita of Australia
(Source: Australia GDP per capita, 2016)
Apart from this, income distribution within different states of Australia are not significant and equal. There is a wide difference in the distribution of income which affects the spending power of people (Cavusgil and et.al., 2014).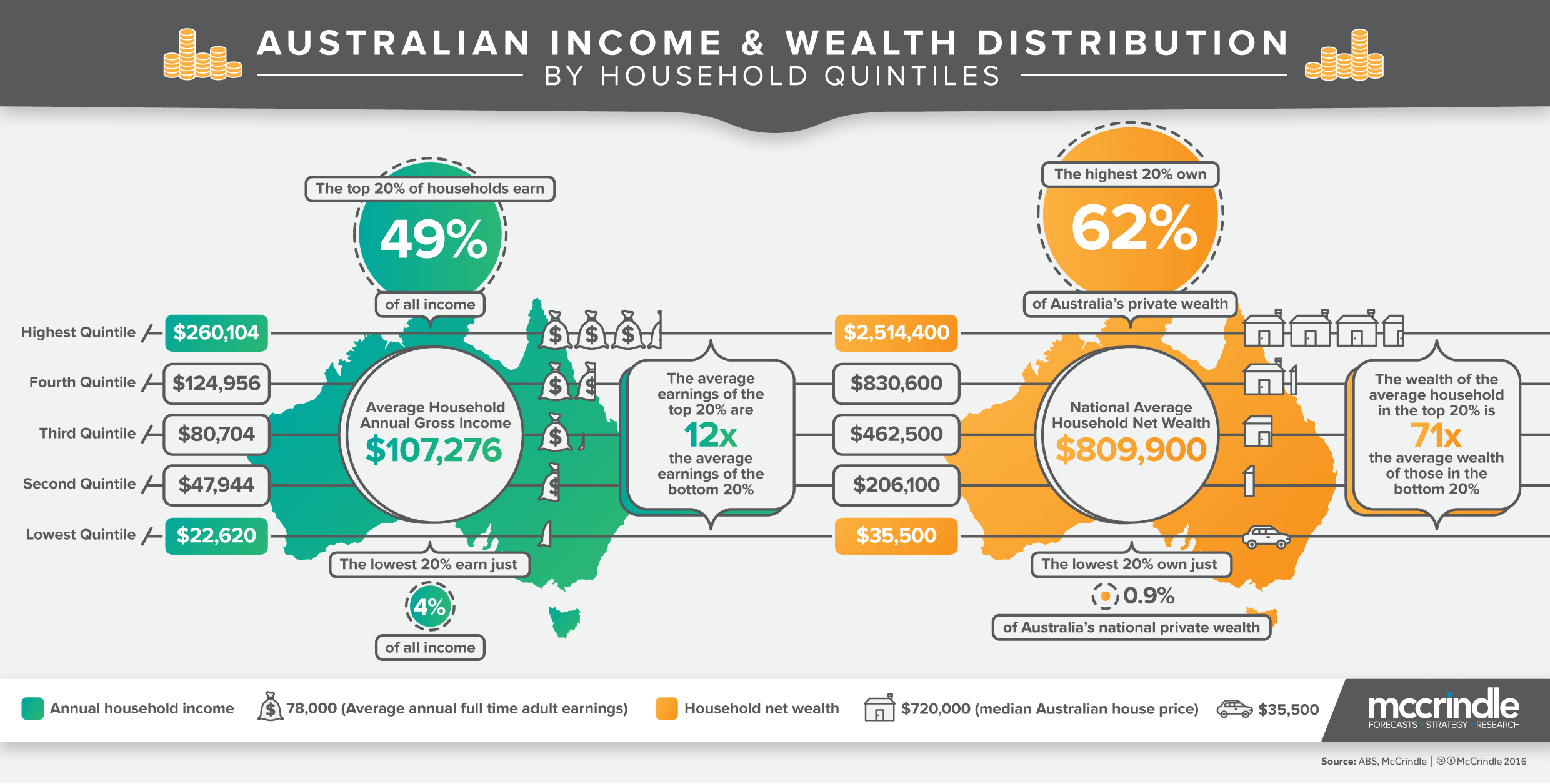 Figure 4: Income distribution in Australia
(Source: AUSTRALIA'S HOUSEHOLD INCOME AND WEALTH DISTRIBUTION, 2016)
By moving towards the Australia infrastructure, roads, transports and sea ports are well developed and are in a very good condition. Both urban and inter-city roads are well developed and constructed. But the rail infrastructure of nation has not that much expanded as compared to the other transportation modes. Reason is less government support and interest. On the other hand, in context of telecommunication, with the time, Australia is one of the world's nations that is making use of cellular phones. As per the recent up-gradation in technologies, most of the people have used digital phones (Fowler, 2013). At the present time, there are more than 1000 internet services providers in the entire nation. In addition to this, Australia has used 1.8% renewable energy, 89.85% electricity has generated from coal and 8.35% has produced in the form of hydro-electricity. Nation has its own electricity supply and dose not use atomic power for the generation of electricity.
Culture Analysis
In Australia, more than 80% people are speaking Australian English. From the research, it has been found that in the nation, about 61.4% people are following Christianity religion. Along with this, there are some other religions in the country which are being followed or adopted by individuals. In Australia, there is high level of security and protection in the form of tariff. Reason of doing this is to lower down the competition level within nation and at international level. In the firms, employees belong to diversified culture and this situation affects the working practices and norms of firms (Tranter, 2011). This thing brings implications for international business management for Australia. Along with this, it has affected the growth of country in negative direction.
With the help of Hofstede's dimensions & relevance model, culture of Australia can be evaluated. In this context, power distance element of this framework shows that in the organizations of country, hierarchy is established for convenience in which superiors are always accessible. Managers rely on individual employees and teams for their expertise. In the individualism aspect, culture of Australia is highly Individualist. Along with this, the community of nation is based on "Masculine" concept (Gilpin, 2016). In terms of long term orientation, there is a normative culture followed within economy. Further, by considering the indulgence factor of Hofstede's dimension, it has determined that Australia is an Indulgent country. People of society are willing to spend their money over expensive things to enjoy the life.
Conclusion
The report is concluding about the factors whose implications and impacts are useful and beneficial for the organisation to expand their business in other countries. It is vital for the management team of organisation to properly and effectively assess the information related to countries in which they are planning to set up their business. According to gained information for the factors like political, cultural and economical, firm is able to implement their approach of establishing business in the concerned sector. Apart from that, report is also specifying brief knowledge about Australia and Tesco.
Reference
Books and Journals
Ball, D. & et.al., (2012).International business. McGraw-Hill Higher Education.
Boussebaa, M., Morgan, G. & Sturdy, A. (2012). Constructing global firms? National, transnational and neocolonial effects in international management consultancies.Organization Studies,33(4), 465-486.
Cavusgil, S. T. & et.al., (2014).International business. Pearson Australia.
Clarke, M., Seng, D., & Whiting, R. H. (2011). Intellectual capital and firm performance in Australia.Journal of Intellectual Capital,12(4), 505-530.
Dellinger, R. P. & et.al., (2013). Surviving Sepsis Campaign: international guidelines for management of severe sepsis and septic shock, 2012.Intensive care medicine,39(2), 165-228.
Fowler, A. (2013). Electoral and policy consequences of voter turnout: Evidence from compulsory voting in Australia.Quarterly Journal of Political Science,8(2), 159-182.
Gilpin, R. (2016).The political economy of international relations. Princeton University Press.
Griffin, R. W. & Pustay, M. W. (2012).International business. Pearson Higher Ed.\
Marschan-Piekkari, R. & Welch, C. (Eds.). (2011).Rethinking the case study in international business and management research. Edward Elgar Publishing.
Martin, A. (2012). Political participation among the young in Australia: Testing Dalton's good citizen thesis.Australian Journal of Political Science,47(2), 211-226.
Mellahi, K. & Frynas, G. (2015).Global strategic management. Oxford University Press.
Scullion, H. & Collings, D. (2011).Global talent management. Routledge.
Tranter, B. (2011). Political divisions over climate change and environmental issues in Australia.Environmental Politics,20(1), 78-96.
Vom Brocke, J. & Rosemann, M. (2010).Handbook on business process management. Heidelberg: Springer.