Introduction
In the present era of modernisation, competition is becoming very tough because of this the individuals needs to make significant efforts to seek for growth and build their position in the corporate world. In the wake of immense rivalry, it has become necessary for a person to develop all necessary skills and talent as well as acquire knowledge which is required in the current scenario of businesses. Today, there are many issues and challenges which act as barriers in the growth of an individual. The present module particularly laid its concern over the different learning styles and theories along with assessment of current knowledge and skills. Further, the study of personal and professional develop aspect will also provide me a comprehensive understanding of my identity and performance which will assist me to attain my career goals. In addition to this, with the context of Sainsbury's which is world's leading retailer chain, the evaluation of my set of skills and knowledge will be reflected by this report.
TASK 1
A. Evaluation of approaches to SML and ways to encourage personal and professional life
Self managed learning process is an effective way to undertake the knowledge of different things with the help of theories and models. In the diversified working environment, it is necessary to adopt various learning strategies and models (Beausaert, 2013). It consists of defining clear objectives, orientation of personal goals, self initiation process, deciding dates of achievements and critically analysis of self-learning. While working in Sainsbury, I am required to develop several skills to sustain in the same organisation. As I am an associate marketing manager in Sainsbury and I need to develop professionalism in myself and acquire knowledge. With the help of VAK and Honey and Mumford's learning cycle as well as Kolb's learning cycle the understanding of own skills and knowledge can be acquired.
Model 1: Honey and Mumford's learning cycle and learning styles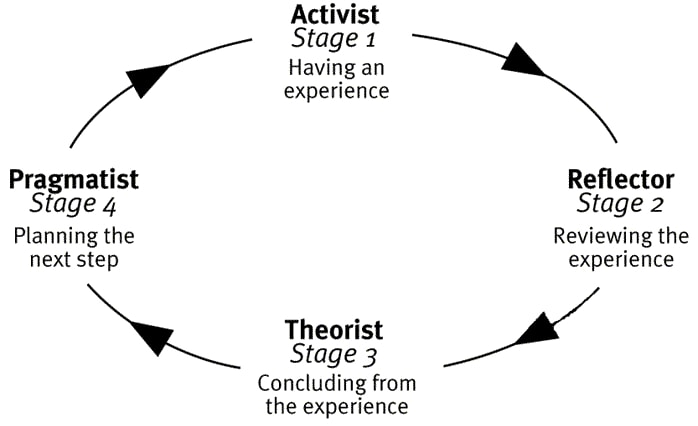 | | | |
| --- | --- | --- |
| Learning Styles | Attributes | Activities |
| Activist | People who learn by self-practising | Brainstorming, puzzles, role-play, group discussions |
| Pragmatist | New theories, ideas and methods are applied to learn new things | Case studies, problem solving, discussions |
| Reflector | By observing the whole activity and reviewing the experience. | Self-analysis questionnaires, coaching, interviews, feedbacks |
Kolb's model comprises of four stages which need to be followed in a sequential manner by linking it with my experiences, actions and plans (Introduction to learning styles. 2016).
Model 2: Kolb's experimental learning cycle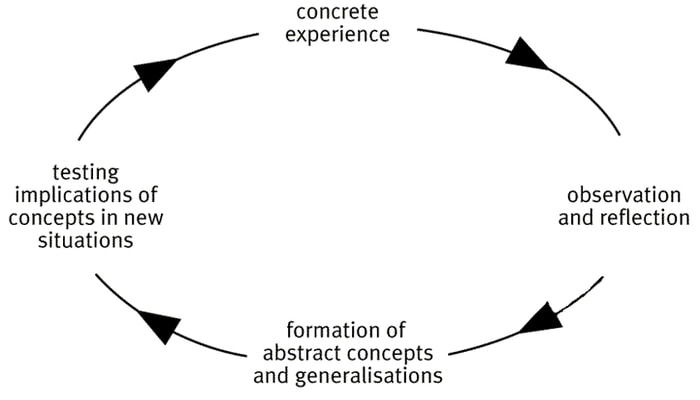 | | |
| --- | --- |
| Stage 1: Concrete Experience | Being associate marketing manager, I need to have concrete experience and knowledge of marketing which can be fulfilled by attending workshops, reading online modules and learning materials or by experiencing the marketing practices with new customers and the clients. |
| Stage 2: Reflective Observation | After engaging with mentors and team leaders, I got to know that I have developed confidence in myself and improved my capabilities. With the help of many discussions with colleagues, peers and senior authorities, I have learnt that more improvements are required in marketing skills and dealing with clients (Griffith and Hoppner, 2013). |
| Stage 3: Abstract Conceptualisation | Now, I have learnt from my experience that, with the assistance of marketing campaigns, lectures, attending conferences and seminars, concrete experience can be developed. |
| Stage 4: Active Experimentation | Conclusions can be drawn from the above stage that it is required to learn more. Moreover, if I passed Kolb's learning cycle then it will reflect my experience and my learning abilities. |
B. Evaluation of benefits of self-managed learning in an organisation
Self-managed learning is beneficial for both individual and organisation, the evaluation of learning process is stated below:
Being an associate marketing manager, I got to learn many things with personal and professional context. I got opportunity to enhance my communication skills, presentation skills, interpersonal skills and technical skills.
I am now able to identify my weaknesses and strengths according to my job position in Sainsbury.
With the implication of SML, I am confident with my colleagues around me and developing good rapport with them.
In today's professional life, managing communication and presentation skills has become crucial for survival and due to this I utilize ample of opportunities
Sainsbury is also making many efforts for its employees in encouraging and motivating them. The company is providing training and development sessions so that workers can acquire confidence and competitive advantage.
There will be direct increment in profitability and growth of the company if its employees undergone with their self-learning practices.
Sainsbury will be then able to solve challenges and issues which arise in the competitive global marketplaces. Moreover, turnover rate will also get reduced. Customers will also get high satisfaction level with the customer services.
TASK 2
A. Personal skills and competencies with the identification of development of skills
Personal and Professional Development plan assist me to know my capabilities and weaknesses and along with learning practices and activities to overcome those weaknesses. In Sainsbury, I would be able to get ample of opportunities which will enhance my personality. With the help of SWOT analysis, I would be able to know about skills which need to be more furnished in an effective manner.
STRENGHTHS
Self-learner
Dedicated and punctual
Quick learner
Efficient in leadership skills
WEAKNESSES
Lacking ability to easily get engage with customers
Lacking presentation skills
Communication skill required to improved
OPPORTUNITIES
I can improve my communication skills with the help of online learning, study materials, tutorials and many more alternatives.
I can acquire opportunity to learn from my flaws.
THREATS
Due to financial instability, I am not able to acquire more opportunities
Increasing demand of knowledge of different languages.
B. Personal and professional development plan with specific objectives
To meet the present and future needs, I need to utilize available resource and opportunities in an effective manner (Personal development review. 2013). To bring improvements in marketing and technical skills, I need to attend tutorial classes and workshops of latest technologies. Moreover, it is also required to improve time and work management skills, so that I can further get opportunities to grow in Sainsbury. I can take assistance from my mentor, team leader or senior authority about current market trend and competitive environment. In addition to this, I also need to develop current knowledge of customer choice and preferences and study the ratio of their buying behaviour, which can be done by improving knowledge.
Action Planning
I hereby declare that, there are lots of things which need to be undertaken within a span of time. In order to develop and grow my career, I can utilize many opportunities with my handwork and dedication during the course of employment in Sainsbury.
ACTION PLAN
| | | | |
| --- | --- | --- | --- |
| Learning Development Goals | Development Opportunities | Expected measurement of success | Target Date |
| Improvements in communication skills | Attending workshops, seminars and conferences Learning different languages by making friends of varied regions | I feel confident now and able to communicate with my colleagues | 25/01/19 |
| Improvement technical (marketing) | By practising marketing skills with the help of online media Attending tutorials and learning classes online (Personal and Professional Development. 2015). | Now I am able to implement latest techniques in the workplace and marketing activities of Sainsbury | 30/01/19 |
| Improvements in Time management skills | By implementing various time management strategies and tactics, like electronic calendar, check-list and to-do list | By getting reviews and appreciation from my colleagues, I can get to know the improvements in my time management skills | 25/02/19 |
| Improvements in interpersonal skills | By involving in customer engagement programs | I have developed good rapport with my team mates and seniors. | 10/03/19 |
TASK 3
A. Implementation of PPD plan and undertaking of development activities
An effective PPD plan can be easily implemented including activities and practices, which will assist me to develop my personality (Pedler, 2011). I need to plan and develop all attributes and skills which are required fro the posy of associate marketing manager. Sainsbury provide ample of growth opportunities, which can be acquired to achieve success. My PPD plan comprises of several development activities which are sta