Introduction
The housing market of UK has seen a tremendous change since 1996 and has evolved in an industry contributing generously to the economy. The report will incorporate impact of new firms or start-ups in the UK market in all sectors and types of industries. The report will critically focus on Bricklane which is a real estate industry providing aids in form of houses to people all over the UK. The evolvement of technology and modern ways of living has boosted the performance of new business firms tremendously. Thus, to understand the international market and impact of globalization, an analysis of Bricklane and its performance needs to be evaluated. Its current strategies as well as potential plans should be critically assessed in order to develop products. Various recommendations needs to be developed so as to enhance its overall productivity.
Bricklane is a property based industry of UK which was started by a team of young people who stays on rent in the year 2014 (Encinas and et.al., 2018). The aim of the team members is to provide a fairer property deal to everyone in UK. The business is owned and operated by the team with diverse group culture and qualification aspects. The team has focused on providing such products to general public and companies by raising investments globally. Irrespective of the wealth of people Bricklane.com provides aids to each and everyone seeking housing facility (Casey, Goodyear and Armour, 2016). Company has an expert group of people advising on funds, merges and property acquisitions as well as creating portfolios for various multinational companies such as ING, CBRE and LSL Peabody, etc. (Davis, 2017)
Bricklane has setup itself appropriately in the UK market enabling people to invest funds in the UK property especially residential and earn returns from the housing market (Pietraszko and Fong, 2015). Company has currently two types of products to be invested in based on residential property which are London funds and Regional Capitals. Both these funds take in monetary resources from the public and invests in high level properties (Tallon, 2008).
Company has a strategy to carry out a detailed value of the various properties on a monthly basis so as to give a proper description to general public to invest in the best property which will yield higher returns (Henderson and Romeo, 2015).
Another strategy followed by Bricklane is tax efficiency will inspires people to invest more in the property sector using Bricklane.com website. The REIT has provided special assistance to Regional Capital funds by imposing no corporate tax on revenue from property or rent received (Encinas and et.al., 2018).
The partnership with Zoopla property is a strategical plan which backed up Bricklane. With Zoopla, company has evolved tremendously and made available its products to a wide range of people all over the UK (Henderson and Romeo, 2015).
Yet Bricklane has came up with a strategy to safeguard their customers which is one of their prime responsibility (Walliss and Rahmann, 2016). The company uses 128-bit SSL encrypted network to secure personal and vital data of customers.
Company needs to evaluate its marketing plan and strategies in contrast to the UK market (Davis, 2017). Thus, applying the marketing mix theory to real estate business will help in evaluating and formulating future strategies for Bricklane. By applying seven P's of the marketing mix theory to selling property, realtor's can determine a brand's offering and develop a more effective property marketing strategy (A Fairer Property Market, 2018). These are: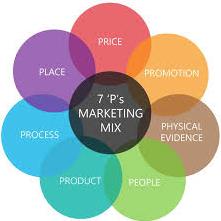 Illustration 1: Marketing Mix
(Source: A Fairer Property Market, 2018)
Product - It refers to as the offering a company made to customers. A real estate or property business is a type of service industry which is created and enhanced by the providers. Thus, Bricklane products are types of services rendered by the team to the general public for investing so as to receive returns later on (Pietraszko and Fong, 2015). The team members are also providing people education regarding market updates and local property sales data. Bricklane needs to evaluate its product performance on a regular basis and discard non performing funds (Coën, Lefebvre and Simon, 2018).
Another point to be kept in mind is to conduct a research about the target market and their needs and wants and then design the product accordingly. Such a strategy will help in gaining higher funds to be invested.
Price - It refers to the amount which customers pay for a particular product. The Bricklane has two types of products which has different prices and return percentage. Pricing of property funds is essential in order to market them in an effective way (Encinas and et.al., 2018). An efficient pricing strategy needs to be incorporated keeping in mind the buyer behaviour and preferences.
The prices of property tends to fluctuate and thus is a major source of revenue for people who has invested in property sector (Beracha, Hardin and Skiba, 2018). At Bricklane the current return for five years is 4.2% and 2.5 % for their two products Regional Capitals and London respectively. Examining sales cycles and price patterns will help in defining which area is profitable so as to advise customers to invest in minimum amount in order to receive grater value (Coën, Lefebvre and Sim