Organization Selected :
Tesco and Asda
INTRODUCTION
In order to develop effective results and marketing is very important concept for retail enterprise. Retail marketing is the process in which retailers promote their products and services to increase their brand awareness and generate more sales (McIntyre, Melewar and Dennis, 2016). In this context, present report based on two contrasting businesses such as Tesco and Asda. They both are dealing in supermarket to produce systematic work performances. For gaining insight information of the present report, it covers illustration of marketing communication tools that assists to include different techniques and method of each business. Furthermore, it involves effectiveness of different marketing activities that are interrelated and influence overall effectiveness.
TASK 1
Marketing communication techniques and methods
Different businesses consider marketing communication activities that assists to meet with desired results. On the basis of these tools, Tesco and Asda able to attain their aims and objectives. However, both using different element to promote their products and services in international areas. They are as follows:
Advertising: It is one of the common form of marketing communication of advertising that used by Tesco to promote effective results. In include paid message to create and place specific media. In this regard, different aspects consider such as TV, radio station, magazines, newspapers, etc. When selected enterprise consider these tools, they need to focus on pay per click displays on websites (Pousttchi and Hufenbach, 2014). Company launch product to create more awareness so that retail ads to generate more sales with advertising. It helps to reinforce brand image of the company.
Personal selling: In contrasting, Asda consider face to face personal selling which can be done on phone calls, sales visits and stores sales staff. They can also hire independent sales reps or telemarketing form. Personal calls also preceded through sales letters, emails, collateral material, etc. On the basis of brochure and media kits, the organisation able attract maximum number of people (Schramm-Klein, Morschett and Swoboda, 2015).
Sales promotion: Promotional is temporary activity that boost sales and revenue. Therefore, Tesco using it with include discount, sales, rebate, etc. All these elements of promotional activities assists to gather creative work performance. New products and services in the business assists to get new people with products and services. As results, promoting one of the core product assists to get message of discount regarding products and service quality (Charter, 2017). Customers of the Tesco have successful program to use products and services so that sales promotion is one of the important tool to the company.
Direct marketing: In contrasting, Asda use direct marketing occurs when customer get opportunities to respond towards information which included in advertising. For instance, TV might be tells about discount pricing on products and services. Many catalogues and websites encourage direct sales with implement toll free numbers. Each page assists to encourage direct sales which placed order form with self addressed. Direct mail also consider in selling so that chosen business will ascertain successful program to focus on effective work performances (McIntyre, Melewar and Dennis, 2016).
Sponsorship: In other consideration, Tesco develop their functions and operations with pay more attention towards organisation activities. When they create sponsorship, company develop 5K race which support sponsor through concert and become successful partner. Tesco develop charity which develop through sponsorship to get right message to attract audience. Maximum number of people will be targeted to bear right expenses in the business. On the basis of systematic work performance, it can be stated that this activity help to having better work in the business.
In respect to look towards different ways of advertising, it can be stated that Tesco and Asda need to maintain their creativeness with using these tools (Goworek, McGoldrick and McGoldrick, 2015). On the basis of different aspects, they are able to communicate successful program in enterprises.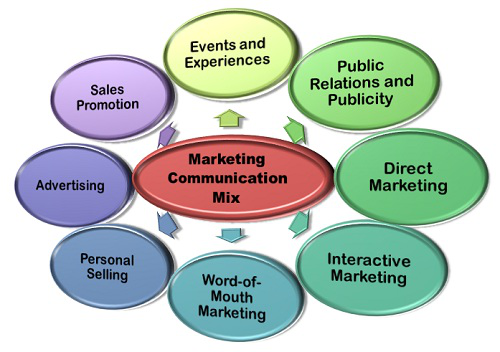 Illustration 1: Tools of marketing communication

Source: (Marketing Communication, 2018)
Effectiveness of different marketing communication activities
Effective marketing communication plans better results to attain systematic results. It assists to create more consistent brand experience with more sales and revenue in Tesco and Asda. There are different successful marketing efforts begin with understanding of audience. In this regard, both businesses need to analysis clients and their demand with products and services. Different elements of marketing communication, both business able to implement their proper communication. They are as follows:
Advertising: It is one of the common form of marketing communication that help to involve and create specific media. Furthermore, advertising offers in Tesco and Asda consider extended reach in large part of audience. Marketing communication activity is very expensive so that both enterprises have duty to focus on different approaches of media. With the help of adequate budget, companies able to increase effectiveness (Liu, Perry and Warnaby, 2016).
Personal selling: In order to consider face to face meeting, personal selling develop in the business environment. In this regard, different kinds of tools and techniques could be implemented for consider more selling. Hence, phone calls, sales visits and store sales staff exist (Lund and Marinova, 2014). Telemarketing firms determines personal sales calls which preceded sales letters, emails, collateral material such as brochures and media kits. In the chosen business environment, it could be used to develop successful operations and functions.
Sales promotion: Sales promotion consider different activities to attract maximum number of people. There are different types of customers those consider spontaneous buying decisions at time of sale. As results, it is important to make proper use of this situation in the businesses. Many marketers decide to put their devices of marketing communication at UK places with discount program. It increases possibility of consumer increment with their message (Sarker and Ashrafi, 2018). For instance, using strategy that included shelf talkers, overhead signs, windows signs, etc.
Direct marketing: Direct marketing also known as online media that assists to consider marketing communication device to increase sales and profit as well. It could be done through purchasing advertising and place with promising location such as newspapers and magazines. In order to attract more audience, advertising by Tesco and Asda take place with impressive message on social media such as Facebook and some personal blogs. Advertising also work tremendously which bring direct message about their products to customers (Kasemsap, 2018). In order to depend type of media, advertising could be easily reach towards a thousand of buyers in all over the world. In case of too expensive, other types of marketing communication will be used by both enterprises.
Public relations: In this type of marketing communication, brand awareness among customers is suitable aspect (Rogers and Davidson, 2015). It is something different from advertising. It assists to communicate products in softer way and more objectives way. In addition to this, PR also mention in different types of marketing communication that assists to make free of charge.
Sponsorship: What chosen businesses support to other organisation activities it creates sponsorship. Effectiveness of this aspect is that chosen businesses are able to connect their functions and operations with different consideration that helps to focus on perform several operations. Main goal of this tool is that message will be get to the businesses activities to target audience to perform all works. They are also bears all expenses themselves (Liu, Perry and Warnaby, 2016).
CONCLUSION
From the above report, it can be concluded that marketing communication is very important perspective for retain sector businesses. There are two businesses selected such as Tesco and Asda. They both consider different operations and functions to attract maximum people. Tesco is mainly using different types of marketing communication tools that help to promote their activities in different areas of the world. On the basis of these tools, they need to communicate their aims and objectives in whole market.
Visit the sample section of our website and enjoy more such informative write-ups written by our essay help professionals.
REFERENCES
Books and Journals
Charter, M. ed., 2017. Greener marketing: A responsible approach to business. Routledge.
Goworek, H., McGoldrick, P.J. and McGoldrick, P.J., 2015. Retail marketing management: Principles and practice. Pearson Education Limited.
Kasemsap, K., 2018. Retail management and electronic retailing. In Supply chain management strategies and risk assessment in retail environments (pp. 139-158). IGI Global.
Liu, S., Perry, P. and Warnaby, G., 2016. The standardization-localization dilemma of brand communications for luxury fashion retailers' internationalization into China. Journal of Business Research. 69(1). pp.357-364.
Lund, D.J. and Marinova, D., 2014. Managing revenue across retail channels: The interplay of service performance and direct marketing. Journal of Marketing. 78(5). pp.99-118.
McIntyre, C., Melewar, T.C. and Dennis, C. eds., 2016. Multi-channel Marketing, Branding and Retail Design: New Challenges and Opportunities. Emerald Group Publishing Limited.
Pousttchi, K. and Hufenbach, Y., 2014. Engineering the value network of the customer interface and marketing in the data-rich retail environment. International Journal of Electronic Commerce. 18(4). pp.17-42.
Rogers, T. and Davidson, R., 2015. Marketing destinations and venues for conferences, conventions and business events (Vol. 14). Routledge.
Sarker, M.A.R. and Ashrafi, D.M., 2018. The relationship between internal marketing and employee job satisfaction: A study from retail shops in Bangladesh. Journal of Business and Retail Management Research. 12(3).
Schramm-Klein, H., Morschett, D. and Swoboda, B., 2015. Retailer corporate social responsibility: Shedding light on CSR's impact on profit of intermediaries in marketing channels. International Journal of Retail & Distribution Management. 43(4/5). pp.403-431.
Related Samples