Organization Selected :
Marks and Spencer
INTRODUCTION
Marketing refers to the business activities which are associated with buying and selling of goods or services in a particular market place. It consists of several aspects such as advertising, promoting, selling and distributing of products to the targeted customers. Marketing audit can be considered as the comprehensive, systematic, analysing, reviewing and interpreting the marketing environment of business such as internal and external (Palmer, 2012). It evaluate organisational objectives, principles and strategies for identifying problems and opportunities to enhance marketing performance through an action plan. This report is based on Mark and Spencer which is a multinational retailing company headquartered in London. This report will evaluate current market position and strategy of business by auditing. The director will consider two sets of market segmentations for target market and undertake research to identify customers groups that will grow business in retail industry. This report will help to understand buyer behaviours and will justify market strategy to meet their requirements.
TASK
Marketing Audit of Marks and Spencer (M&S)
Marketing can be everything that firm does for acquiring customers and make them loyal through maintaining relationship. It is a study that is used for creating, keeping and satisfying customers in an adequate manner. In this, it includes a set of procedures for producing, communicating, distributing and exchanging of goods or services to the clients, partners as well. The main purpose of marketing is to identify customer's needs or wants and provide them right products through an exchange process to meet their desired expectations (Cockton, 2012). It is an helpful component that support in analysing current trends, situations, customer's tastes, preferences and choices and competitors with the help of environmental study so that company can make decisions about proper plans and strategies to achieve competitive advantages.
Mark and Spencer is a British Multinational retailer which is situated in London. It deals in variety of products or services including Clothing, home products and luxury food products in international market. Management focus on capturing market by using several tools or techniques as well as strategies which helps to create a better position in the marketplace. Therefore, they undertake audit and inspection of overall activities or operations that provide actual information regarding current market position, trends and environment so that they can make decision about making plan or adopt strategies for business development. There are required some necessary elements for marketing auditing such as:
SWOT Analysis of Mark and Spencer (M&S):
M&S is selling number of products or items in the international market such as cloths, home appliances and many more so it created an effective position among competitors. It is necessary to maintain goodwill in competitive environment for getting better outcomes and sustainable development as well (Cooper, 2012). Company identify its actual strengths and capabilities to grab various opportunities regrading business development. SWOT analysis is best way to identify company's strengths and weaknesses to formulate effective strategies and adopt ideas so that brand position can be maintained in an appropriate manner. These are as follows:
Strengths:
Mark and Spencer is largest firm in retail industry that deals in global market and serve variety of products or services such as cloths, food items and home appliances to the customers.
They focus on providing better quality of goods or services for the purpose of satisfying customers desired needs or expectations and reach at potential target audience.
M&S is using various tools or techniques for reaching customers such as online platform or e-commerce so that maximum people can be attracted towards company that contributed in economic growth and development of firms.
They have expanded their business at global level so many of customers are targeted across the different country and they maintain relationship among them in better ways (Jung, 2012).
Their main focus on high effective corporate social responsibility and strong e-commerce infrastructure.
Weaknesses:
They focus only on UK market which is making more vulnerable to particular market condition in local country.
It can be difficult to survive in the market of China in future.
They have created complexities for customers due to frequent products as it can loss their confidence.
Opportunities:
There are several opportunities for business expansion as they are planning to invest in developing countries such as India.
M&S is focusing on internet market as online presence will reinforce its market position in an effective way (Soo, 2012).
Company can broad their segmentation areas for reaching at potential customers as they are trying to reshape theirclothing segment and simplify their model where business are operating.
Threats:
The major threats are competitors there is stiff competition of food sector in the UK market.
Other threat is depreciation which is superior after Brexit effects.
At the present time, the trends and fashion are changing regarding clothing space that affects on customers behaviours or their choices as well.
PESTEL Analysis:
This is essential in identifying various factors of macro-environment that influence to the retail industry as Mark and Spencer (Morgan, 2012). It comprises different forces such as political, economical, social, legal, environmental and technological which must be determined in the business strategy so that company can overcome various challenges in an effective way. These can be understood by following such as:
Political:This factor is associated with several rules, regulations and policies that formulated by the government. M&S can be influenced by political factors due to several changes in regulations, code of conducts, fluctuations in policies and procedures which have direct impacts on the business and its profitability. Free trade policies effects on reducing sourcing costs of firm and another major impacts of Brexit on the business. Government and taxation policies can be change as per environment so it also affects on the operations and functions of business.
Economical: This factor is related with economy of country that have significant impacts ons the business as M&S can be effected due to changes in growth rates, GDP and inflations or deflation etc. Company have opportunity to increase its economy by expansion of business at different countries (Baker, 2014). Therefore, M&S is making strategies to expand business in India because it is developing country and its economies are growing fasts or rapidly so it will be beneficial for company to increase profitability generate higher revenues as well.
Social: This is most important factor that have direct impact on the organisational functions and activities as these are related with societies, communities and targeted customers. They can affects on the decision making of organisation regarding producing of good or services. M&S has requires to consider such factors because social people can be helpful in cutting down internal costs of firm due to initial support. Company focus on analysing customers demands, trends and preferences for providing them effective goods or services as per their requirements so that set targets can bes achieved.
Technological: In the modern era, technologies are growing fast as many of firms focuses on adopting advance technologies for improving business performances. It play crucial role in developing firm and increasing profits in well manner. M&S use advance technologies for producing new variety of products or services because these support in making work easy and effective (Novikova, 2015). On the other side, they undertake security, risk and compliances which are increasing concerns for retail industry. These included software technologies, e-commerce and online transactions that helps sin running business in smooth manner. M&S always ready to invest huge funds for adaptation of new advanced technologies within firm.
Environmental: There are various factors that are related with climates affects on business as government, media and public focusing on environmentally friendly and impulse companies to reduce packaging. Therefore, M&S has announced to charge 5p per plastic bag from customers so that it support in usages of plastic and make environment more effective and positive.
Legal: in this considered the obesities and health which are rising as per the environment. These concerns prompt regulators for enforcing strict disclosure and advertising rules so it can affects on company's promotions and development due to financial burden as well.
Ansoff Matrix:
For analysing the business portfolio, M&S prefer Ansoff Matrix which is beneficial in identifying the strategies and position as well. They are leading retail company at global market so it is necessary tos find better strategies to maintain goodwill or brand image among competitors in well manner. There are defined Ansoff Matrix with detailed form such as: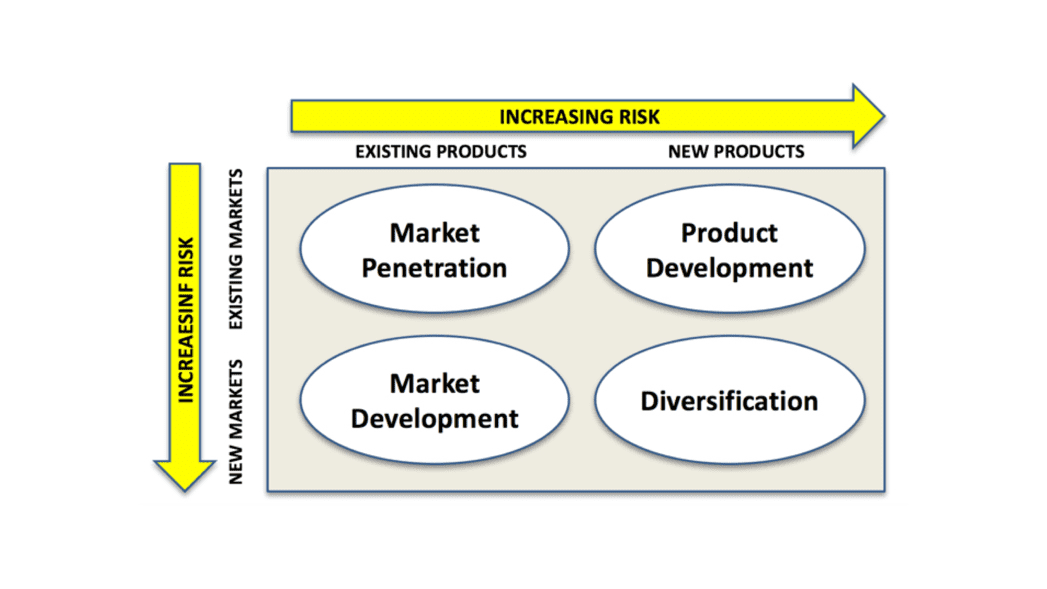 Illustration 1: Ansoff Matrix 2018
Marketpenetration: In this stage, company make decisions to sell its goods and services in existing market for increasing growth and sustainability. It can be analysed that M&S is focusing on generating profits and enhance market size or growth with the help of effective strategies and action plan (Engelen, 2011). It can be possible by increasings sales volume as they offers their products or services at reasonable costs which support in attracting huge audiences.
Market Development: In this strategy, Mark and Spencer is focusing on expanding their business at different countries so that markets shares can be increased in an effective manner. Company sells its existing goods or services in completely new market which helps in attracting more customers and enhance sales. M&S consider this strategy for capturing market and reach at potential customers in well manner. Therefore, company is trying to entering into developing countries where they can generate higher revenues and strong customers base as well.
Productdevelopment: In this strategy, Mark & Spencer try to create new products or services as well as modify existing one so that customers can be satisfied in an adequate manner. They make decision regarding adoption of strategy to come up with new innovative products or add some unique or additional features in the existing market so that higher growth can be enhanced (Brettel, 2011). For example, M&S introduced financial and banking services which are new products of firm.
Diversifications: This is another bests strategy to grab opportunities for developing particular business and increase markets shares in better ways. M&S considering the diversification of business as introduce new product into complete new marketplace. It can create complexities while entering into new market because of improper knowledge and informations regarding market trends and situation.
Research on market segmentation
Market segmentation can be considered as the approach for selecting particular group of people regarding goods and services. it is necessary to find potential customers for products that can be possible to divide customers as per the basis of segmentation so that company can satisfy their needs or wants by providing right products in an efficient manner.
M&S has undertaken various elements of segmentations such as demographic and geographic for selling their goods or services. they decided to segment market according to customers which can be beneficial in formulating strategies and action plan as well (Zenker, 2011). This firm is selling number of products or services in the international market as it has good brand image in the UK market. They undertake innovative ideas and creations for developing firm and increase growth of company. There are four major components of market segmentations such as:
Geographic: in this segmentation, markets are to be divided on the basis of region , locations, areas such as hilly, deserts etc. Company focus on finding best places for selling its products or services so that they can earn higher incomes and develop business in an efficient manner. M&S is considering only on UK market rather than other due to increasing demands of customers and strong market image among competitors as well.
Psycho-graphic: In this undertake several basis for segmenting particular market such as living standard of people, their lifestyles, attitude, beliefs and values to satisfy their products or services in an effective manner. For example, M&S is focusing on valuable customers as per their requirements such as Indian people generally prefer some ethnic cloths so there are opportunities to increase sales volume and generate higher incomes in better ways.
Demographic: in this, researcher divide the group of peoples into small size on the basis of particular criteria so that company can find its potential target audience (Martin, 2011). They undertake customer's age, sex, income, occupation, nationality and education etc. it support in identifying particular customers demands or needs and provide them better quality of goods or services to satisfy their desired needs or expectations as well. For example, M&S targeted the group of people on the basis of gender and income level for goods and services.
Behavioural: Under this, company considered customers buying behaviours, decision making and brand loyalty as well. So that it is necessary find potential consumer and targeted audiences. For example, M&S focus on selling goods or services to those customers who prefer more this brand for satisfying their needs or wants. Any consumer who prefer ethic products can be remain loyal towards firm for long time.
Reason of targeting such two market segmentation:
Company has divided their market into two sets of segmentation such as demographic and geographic as well.
Geographic:
M&S targeted various effective places and location that can be fruitful in increasing sales volume and generate higher revenues as well. Their major geographic segmentation is in the UK as they have captured large size of market in the retail industry and attracted number of customers towards firm. Apart from these, company expanded its business at different countries as they have around 337 stores in 41 international territories for reaching at target audiences in an appropriate manner (Moutinho, 2013). They make strategy to reach at desires customers by opening stores in the territories so that customers can easily buy particular goods or services from shops. They remain keeps same environmental structure and consistent packaging so consumer find ease shopping.
Demographic:
it is another basis of segmentation that M&S has segmented market on the basis of demographic so that customers can be targeted for right products. In this consider the age groups, ethnics groups, gender, social class and income level who can buy the company's products. These are to be undertaken for the purpose of increasing brand image, foods, clothing, stores, and generate higher profits with help of keeping brand in customers mind as per the segmentations.
Marketing Strategies
Marketing strategies can be defined as long-term and forward-looking approach for the purpose of proper planning to achieve competitive advantages and sustainable development. In the planning of strategy involves various process for analysing company's situation, strategic formulation, evaluate and select particular market positions to accomplishes set targets and objectives in an effective way (Huarng, 2013). Mark & Spencer has considered different marketing strategies to create awareness among targeted customers with the help of utilising various promotional tools or techniques and attract them towards company's products or services as well. There are appropriate marketing strategies for M&S such as:
Product Description:
In this considered the whole description of particular products including quality, features, and prices which used for producing goods and services. they provide adequate informations to the customers regarding products details to make them aware so that trust can be build in effective way. Mark & Spencer is British multinational retail company which provide different goods or services such as food item, clothings and home appliances but the most famous products are women wears that has captured around 11% of market in UK. Company use several effective strategies to attracts more customers so that sales can be increased (Dholakia, 2012). Therefore, they have decided to invest sufficient funds in promotional tools that will support ins creating awareness among customers and influence their behaviours to purchase company's items for maximum satisfaction level. M&S considered market segmentation for findings appropriate targeted audiences on the basis of demographic and geographic as well. These are essential tos increase higher revenues and income as well as market growth in better ways.
Brand image:
M&S is reputed retail company as they use several promotional tools or techniques for creating better brand image among customers and competitors. Therefore, communication channels play vital role in promoting brands and products in the marketplace. Company undertake effective advertisements, packaging, publicity and many more elements for promoting products. It is beneficial in building and maintaining relationship with customers so that long term advantages can be gained.
Pricing objectives strategy:
There are required to formulate appropriate pricing strategies for the purpose of achieving long term goals or objectives. M&S focus on making better strategy to charge price on their goods and services by considering affordability of customers (Morgan, 2012). Management undertake customers behaviours and their capacities to buy any products. They try to reduce costs of production and utilise available resources for manufacturing effective goods or services. they can consider digital tools or techniques to operate business and its promotions as well.
Distribution strategies:
It concerns with distribution networks that must be undertake to reach at potential customers. M&S focus on adopting best method for delivering goods or services at the marketplace. They follows various activities of distribution such as:
Indirect distribution:In this method, company have to undertake big chain of supply for distributing products and it is associated with effective marketing and its strategy (Jung amd Soo, 2012). This can be lengthy process so it takes more time to reach at desired customers.
Direct distribution:In this, company sells its products to the direct end users. M&S also consider this process to manage and maintain relationship directly with customers.
4P's of M&S:
Products: company is selling various products or services in the international markets such as Jeans, Blazers, T-Shirts and Skirts and food materials etc.
Price: Company focus on makinbg better pricing strategies such as cost leadership and seasonal period of time so that sales can be enhanced (Palmer and Cooper2012).
Place: M&S is dealing in international market as it has around 1000 stores in 50 countries.
Promotions: M&S adopted various forms of promotions such as social media, CSR, campaigning, marketing and many more to create better awareness among customers.
CONCLUSION
From the above report, it has been concluded that marketing is essential tool for every business firm that helps in growing business and its development. Many of firms considered effective marketing tools to increase market shares or growth as well as reach at potential customers in an adequate manner. This assignment defined about M&S strategies and positioning in the marketplace as how they attracts customers to achieve predetermined goals or objectives. In this undertake SWOT and PESTEL analysis to identify actual position. M&S used Ansoff matrix for appropriate marketing strategies and generate higher revenues in well manner.
Visit the sample section of our website and if you are looking to buy assignment then contact our assignment writing professionals.
REFRENCES
Books and Journals
Palmer, R., Cockton, J. and Cooper, G., 2012. Managing marketing. Routledge.
Jung, L.H. and Soo, K.M., 2012. The effect of brand experience on brand relationship quality. Academy of Marketing Studies Journal. 16(1). p.87.
Morgan, N.A., 2012. Marketing and business performance. Journal of the Academy of Marketing Science. 40(1). pp.102-119.
Baker, M.J., 2014. Marketing strategy and management. Palgrave Macmillan.
Novikova, E.N., 2015. Design of a marketing information system. Mediterranean Journal of Social Sciences. 6(1 S3). p.141.
Engelen, A. and Brettel, M., 2011. Assessing cross-cultural marketing theory and research. Journal of Business Research. 64(5). pp.516-523.
Zenker, S. and Martin, N., 2011. Measuring success in place marketing and branding. Place Branding and Public Diplomacy. 7(1). pp.32-41.
Moutinho, L. and Huarng, K.H., 2013. Quantitative modelling in marketing and management. World Scientific.
Dholakia, N., 2012. Being critical in marketing studies: the imperative of macro perspectives. Journal of Macromarketing. 32(2). pp.220-225.
Related Samples