Introduction
In order to define the contemporary issues in travel and tourism industry, first it is required understanding the factors which influence the tour operations. There are different issues and trends which affect the efficiency of productivity. There is evaluating of current trends which make changes in the strategy of tour industry. Furthermore, there are various methods and resources which are using in the analysing of current issues. Improper infrastructure, Pollution Wastage, Sewage system, Poor experience, Issues related to the terrorism are the issues which is faced by travel and tourism industry. The way by which whit bread company is responding to the change can be analysed by pestle analysis and swot analysis. Pestle analysis is a analysis of macro environment and swot analysis is the analysis of micro environment. Swot analysis includes all the strengths, weaknesses, opportunities and threats of a company and pestle analysis includes political, economical, social, technological, environmental and legal factors. There are various strategies made to respond the change. Such as Form a coalition, change the vision, communicate the vision, create short term goals, anchor the change and build new strategies.
Task 1
P1.1 Analysis of issues currently driving change in the travel and tourism sector
The best tourist destination in the world is UK. Through this advantage, it has increases the number of visitors in last few months. There are different types of issues which are creating a higher range of influence over the tourism industry. There are various destinations in the UK which attract the customers to buy a holiday package of UK. But these are affected by the various issues. The main issue which affecting the most to the tourist industry is changes in the technology or technological advancement and changes in environmental weather of destination place. Except these factors, transportation companies, telecommunication companies and other hotel industries are also main factor to influence the tourism operation. Transportation companies ensure about the facilities providing to the movement of the people without troubling them. There are many issues which can drive the changes such as :
E-Tourism
Transport system
Social networks
Climate
E-tourism enables the tour operators to serve their customers in an effective way. It is a information communication technology. Being world's best and largest tourism industry, it is mainly affected by changes in ICT. Today all the tourism industries are using online portal services. They provide informations about their package and product through online sites. Transportation system is a complex factor for any tourism industry. Tourists are not buying those packages which using transportation medium such as bus or train. Climate change is also a major issue in tourism industry. Risk of water shortage, melting snow and fast disappearing beaches might be factors of climate changes. With the increasing level of global warming, there has been increase in sea level as well.
P1.2 Analysis of different issues by using of accurate methods and resources
There are many issues which has to be faced by every travel and tourism industry. These issues are as follows :
Improper Infrastructure: The main issue for tourism industry is inadequate of infrastructure. It involved improper availability of trained manpower, access of destinations and airlines capacity. There is no proper facility of accommodation as well.
Pollution: Solid wastage and sewage are the main issues in tourism industry.
Wastage: There is a major problem of wastage done by tourists. Many of the tourists leave behind their campaign equipments which is a major problem and it increases the wastage due to disposable facilities as well.
Sewage System: Sewage is increased due to unplanned construction and other facilities. It also threatens factor for human being's health.
Poor Experience: Poor experience of visitors also a cause of issue for tourism industry. Harassment and unhygienic conditions in some places are the reason of poor experience of visitors.
Issues Related to the Terrorism: Violence issues are also threatened factor the tourists.
Task 2
P2.1 Evaluation of current trends in travel and tourism sector
Spiritual Tourism: Many tourism operators are expecting to expand their area by launching a new product or re invent product. In present environment, people are stressful and disturbed as lives are becoming more competitive and engaged. All tourists are looking for meditation and spiritual reading. By adding a spiritual in their holiday package will increase the current trends(Sharpley, and Telfer, 2014.).
Adventure Tourism: Youth tourism are the main factor for the tour operators. They focus on youth travellers rather than other tourists. Youth travellers want to get knowledge and experience due to the quality of curiousness. Adventure tourism can be a method to attract youth consumers. It plays a special role in influencing the attitude and behaviour of tourists.
Health Tourism: Tour operators are trying to add health aspect as well in the holiday packages. In now trends, all are trying to add Ayurveda, yoga, naturopathy and some other treatments in their packages to attract the customers.
MICE Tourism: MICE refers to meetings, incentives, conferences and exhibitions. These factors are rapidly growing in the respect of tour operations. All these contents have different characteristic and plays a different role in to influence the strategy of making holiday packages.
Nature Tourism: A major crowd can be gathered by adding a nature tourism in holiday package. People are seeking to gather information and knowledge about the nature. It is the best technique to attract the tourists so that they can experience it in natural way.
Rural Tourism: Experience of the rural tourism can attract the tourists. There are different main objectives in this tourism plan such as : improve the lifestyle of rural people, giving the best experience and maintain the quality.
P2.2 Evaluation by using correct methods and resources
To evaluate the affect of issues and trends on the tourism industry can be evaluated by market research which helps in to identify the trends. Tourism operators of UK company is using this method to operate in the best and in an effective manner(Sharpley, and Telfer, 2014.). With the change in the environment, preferences and taste of tourists are also changing. The choice of destination is also vary from one tourist to another tourist. Young generation prefers adventures tourism while old generation prefer spiritual tourism. Some tourists are curious and knowledge seeker about historical place. For the purpose of evaluating trends and issues, it is necessary to evaluate the numbers of visitors as well. It is necessary to collect all the quantitative and qualitative data about the tourists. There are some data which is collected from the tourists who visited UK and conclusion is also expressed: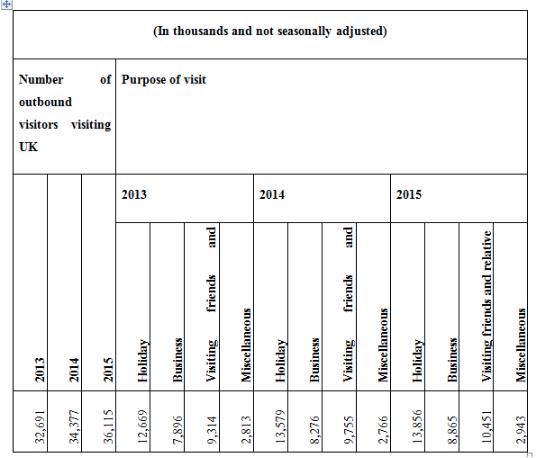 Illustration 1: data relation
This table is showing the data related to the overseas residents who have visited UK and the purpose of visit showing below: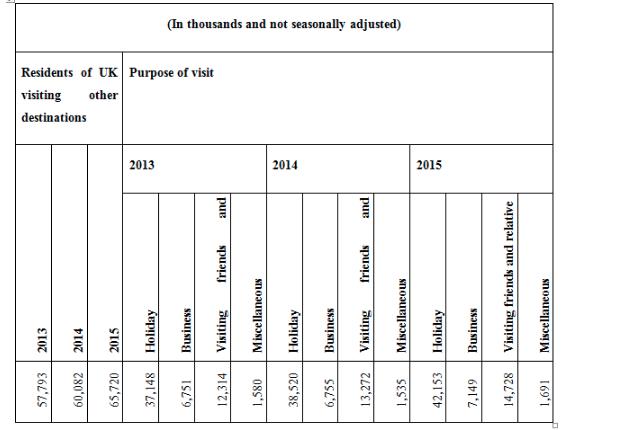 Illustration 2: data relation
These tables showing data related to residents of UK visiting other destinations and the purpose of the visit is:


Illustration 3: data relation
Table showing the earnings from the overseas residents visiting UK and expenditures from the UK residents visiting other destinations and their balance.
Task 3
P3.1 Analysis of whit bread businesses that how could it respond to change
Technological changes
Socio economic changes
Changes in consumer preferences
Need to attract customers
Whit bread business is one of the fastest growing industry in restaurant and coffee shop industry. It is having more than 50,000 employees in their organisation(Sharpley, and Telfer, 2014.). The way in which whit bread company can give a response to the change is evaluated by the technique of SWOT ANALYSIS AND PESTLE ANALYSIS. Swot analysis helps to identify the strengths, weaknesses, opportunities and threats to whit bread business.
Strengths Includes:
Huge customer base
The best quality of service
The best quality of product
Image in market
Image of brand
Loyal customers
Weaknesses Includes:
Limited service
Less development of technological equipments
Irrelevant functions
Opportunities Includes:
Expansion
Different services and products offered
Merging
Threats Includes:
Changing in inflation rate
Changing in exchanging rates
Technological changes
Increasing competitive environment
Pestle analysis include all the factors such as political, economical, social, technological, environmental and legal(Sharpley, and Telfer, 2014.). These all factors are help in to provide the information to their relevant factor. Such as political factor provide the informations related to the changes in political parties.
Pestle analysis include these factors :
Political:
Tax policy
Data protection law
Education law
Health and safety law
Employment factor
Trade law and policies
Economical:
Government policy
Labour cost
Interest rates
Taxes
Demand and supply
Exchange rates
Social:
Social media sites
Lifestyles
Buying habits
Educational level
Sex distribution
Beliefs and values
Technological:

Manufacture or infrastructure incentives
Automation
Flexibility
Improved quality of product
Environmental:
Changes in climate
Pollution
Population
Weather
Legal:
Copyright law
Import law
Export law
Health and safety law
Hazard law
Consumer law
By knowing these factors, a company can get knowledge about the macro environment. By using swot technique, company can improve their efficiency and by pestle analysis, company can control over the business(Sharpley, and Telfer, 2014.).
P3.2 Develop strategies on whit bread businesses that how could it respond to change
Technological changes
Socio economic changes
Changes in consumer preferences
Environmental changes
Consider Timing: the whit bread company has to be focused in allocation of appropriate time to make any changes. All decisions takes time to manage itself according to the changes.
P3.3 Justify the strategies
Form A Coalition: In order to respond to change, it is necessary to put together all employees whose power generates from different sources like from job description, job title, status and other political significances.
Change The Vision: A clear vision helps the company to maintain its position in the changed environment. Whit bread company is trying to create the visions which are necessary for change. Developing strategy related create the change vision and then implementation is also necessary.
Communicate The Vision: There are day to day uses of vision in any company. Just communicate the vision to all the employees is not just enough. There has to be conduct a meeting to discussed on the change the vision(Sharpley, and Telfer, 2014.). It is necessary to talk about the change vision frequently with all the employees and provide them open environment to give feedback on the change vision.
Create Short Term Goals: Company has to be make short term goals and form only one long term goal. Whit bread has to be ensure about the all short term goals are attainable.
Anchor The Change: It is necessary to achieve goals and success that all changes are observed under each department of the company. With the anchoring of change in every department will give a higher opportunity to achieve goals.
Build New Strategy: Company has to be ensure about that all activities are done in a positive way or not. Company can build new strategy to deal with the changes. By making new strategies and new plans, company can face the issues regarding to the change. Company should set planning to compare the actual and standard perfomance level regard to impact of change(Aragon-Correa, Martin-Tapia, and Torre-Ruiz,2015.). .
Task 4
P4.1 Analysis of impacts of issues and trends which affect the travel and tourism sector
There are many types of impacts of issues and trends over the tourism industry such as :
Employment Level: Everyone one can see that the behaviour and working patterns of employees are varied according to their needs and preferences. Changes due to issues and trends may affect the employees of an organisation.
Technology: According to changes in the technology, Trail finders ltd. company is increasing the level of productivity in its organisation. It provides better service to their customer with experienced employees.
On Products: The affect of trends and issues in travel and tourism can be seen over the products and services offered by the company. Company is providing better quality and best features through their product to maintain its position in the market(Aragon-Correa, Martin-Tapia, and Torre-Ruiz,2015.).
Holiday Trends: According to recent study by tourism industry, it is concluded that changes in tourism sector is influencing the pattern of holiday package.
Social Sites: Tour industries are using social sites due to changes in the technology. Social networking sites are important tools playing beneficial role in tourism industry. It has a huge impact on tourism industry because needs and preferences of customers are continuously changing.
Service Level: Service level of tour operations must be good. Due to issues, company is facing the problem of poor service level and poor experience of customer.
Lack Of Differentiation: Level of competition is high in the tourism industry. Company should follow the strategy of differentiation rather than penetration strategy. But tour operations are not using differentiation strategy cause of issues and trends(Aragon-Correa, Martin-Tapia, and Torre-Ruiz,2015.).
Human Resources: Due to changes in technology and trends, it is necessary to require well experienced employees in their place. Just hiring the employees is not enough process in any organisation. To maintain and manage these employees or human resources in a best manner is also required.
Main factor which affect the tourism industry is weather. Because all tourists will prefer only those places where no risk factor about the whether. Lack of differentiation can be overcome by using differentiation strategy.
Conclusion
From the above report it can be concluded that, there are many issues and trends which is faced by all tourism industry. Whit break company which serves the people through restaurant and coffee shop is successfully responding to the change. It is analysed by swot analysis and pestle analysis. The factors which are included in these both models are described above. Diagrams and charts are also presented regarding to the analysis of impact of trends and issues. Impact of trends and changes on the organisation is in positive way and in negative way as well. There are many consequences of businesses which fall down the business and decrease the maintained position in the market due to market changes. Impact of changes can be seen on the products' and services provided by company to their customers. Whit bread company is developing strategies to respond to the change such as : Technological changes, Socio economic changes, Changes in consumer preferences and environmental changes. There are different ways by which changes affect and influence the tourism industry which can be identified through employment level, technology, service level, on products and human resources. There are different consequences like technical and economical which affects the productivity of a company. At last but not the least, all tourism operators has to be faced all the challenges and issues due to a part of advanced technology. All tourist operators are using online sited to develop their product and sell their service. So it is obvious that these changes will affect the productivity.
References
Aragon-Correa, J.A., Martin-Tapia, I. and de la Torre-Ruiz, J., 2015. Sustainability issues and hospitality and tourism firms' strategies: Analytical review and future directions.International Journal of Contemporary Hospitality Management,27(3), pp.498-522.
Becker, E., 2016.Overbooked: The exploding business of travel and tourism. Simon and Schuster.
Cohen and et.al., 2014.Understanding and governing sustainable tourism mobility: Psychological and behavioural approaches(Vol. 43). Routledge.
Fennell, D.A., 2015. Ethics in tourism. InEducation for sustainability in tourism(pp. 45-57). Springer, Berlin, Heidelberg.