Introduction
In order to analyse the global management competency helps the professionals in having the most appropriate analysis through various operations which in turn will reflect overall the gains collected by organisation. Therefore, in accordance with making the effective reports based on resolving the issues the present report comprises with effective analysis over the team performance made by Newcastle United Football Club. Therefore, there will be performance review of the team members on the basis of number of goals made by them during the period as well as fees payable to them. In relation with the background of this English club which was founded in 1892 as per the merger of two clubs. The merger of clubs like Newcastle East end and West end. The firm has appropriate gains and success which has leaded it to the favourable extremes. There has been huge expansion in 1990 which bring the ability to manage the 52,354 of crowd in the stadium known as All-seater stadium. Moreover, in the present study there will be analysis through all the business intelligence and data analytical techniques which in turn bring the reliable and effective data to the managerial professionals of this club. Similarly, it implies with the influences of all the relevant facts and figures which will be helpful in analysing the data set such as regression analysis, cluster analysis and dashboard of all the member's performance. Therefore, SAS technique will be followed in terms of analysing the outcomes from the sources. Thus, report will be comprises with the adequate problems of making the effective analysis through all the issues.
1. Analysing the problem/opportunities incorporated with the team performance of Newcastle United Football Club
Every country has one of its favourite sport which fans liked the most. In relation to this, football is liked by the people of England and as such, they sees matches in the grounds and also cheer for their favourite players as well. It can be noted that Newcastle United FC (Football Club) which is a team in London engaged in playing this sport. It can be analysed that usually paying higher amount to players leads to accomplishing more goals in the ground (Newcastle United. 2018). However, players purchased by football club are not performing well particularly higher paid ones. In addressing to this, association is stucked with the problem as to what should be the adequate fees payable to players which will be cost effective for club as well. It will be effective one for the club as it may not pay more payment to players who have score low goals and as such, in accordance to the performance, fees can be paid. This is the problem statement which will be resolved by implementing SAS software and excel dashboard.
The increment in a trend of making the effective game play for the pyfeople who like to watch their favourite players and games in performing well. Thus, in relation with such expectation there are several problems which were in associated with the performance of the players. The revenue retained by the players is not appropriate with their performance and efforts. However, it has been analysed here that the proper revenue will improve their interest and dedication towards the game. Thus, they will make effective efforts in the game as to have satisfactory gains. Therefore, the implication of various statistical tools which in turn makes the adequate analysis through the data set and a reliable outcome will be generated. Implication of Business intelligence and data analytical techniques will have satisfactory analysis over the variables and components which were used. The fruitfulness of these techniques is to develop the most effective particle skills and methods which will ring the reliable outcomes from the business intelligence and analytics. Similarly, it will require the appropriate analysis through all the gathered data and the observation over the team performance of Newcastle United Football Club. In addition, to analyse the team skills, talent of players then analysis will be helpful in presenting the adequate reasons behind such outcomes (Kollwitz, Dinter and Krawatzeck, 2018).
Thus, it insists that there is need to have changes in the training and development process which will improve their performance as well as enhance their efficiency level. On the other side, the importance of business intelligence is that it totally removes the guess work because of the accurate outcomes which ascertains the proper historical data. It will be assistive as it easily recognises the opportunities for the business which will be helpful in improving the capabilities and bring the competitive advantages. Moreover, it comprises with preparing dashboards, reports on the basis of Tableau and Quilkview as well as Excels. On the other side, in relation with the data analytics system there has been implication of the techniques such as SAS software, regression analysis which will used to fetch the most reliable and accurate analysis.
2. Discussing theoretical framework for linking problem with data analytics and business intelligence
Business intelligence tool assists management of football club to effective carry out results of players in the best possible manner. This will be helpful for Newcastle United FU to resolve the problem of fees structure. Excel dashboard is effective way to analyse performance of players in respect of total goals made by them. Furthermore, it can be useful for determining which player has effectively attained more goals and what fees should be paid by football association in the best possible manner. On the other hand, another tool is SAS software which is predictive data analysis and use for advanced analytics is much helpful for football club to analyse whether players are able to make adequate goals in respect to fees paid to them. Regression analysis is also performed and provides way by which one variable has impact over the other (Leon and et.al, 2018). Cluster method is taken out for jugding parameters and decision can be effectively made.
3. Evidence of knowledge of Data analytics (DA) and Business Intelligence (BI)
Excel Dashboard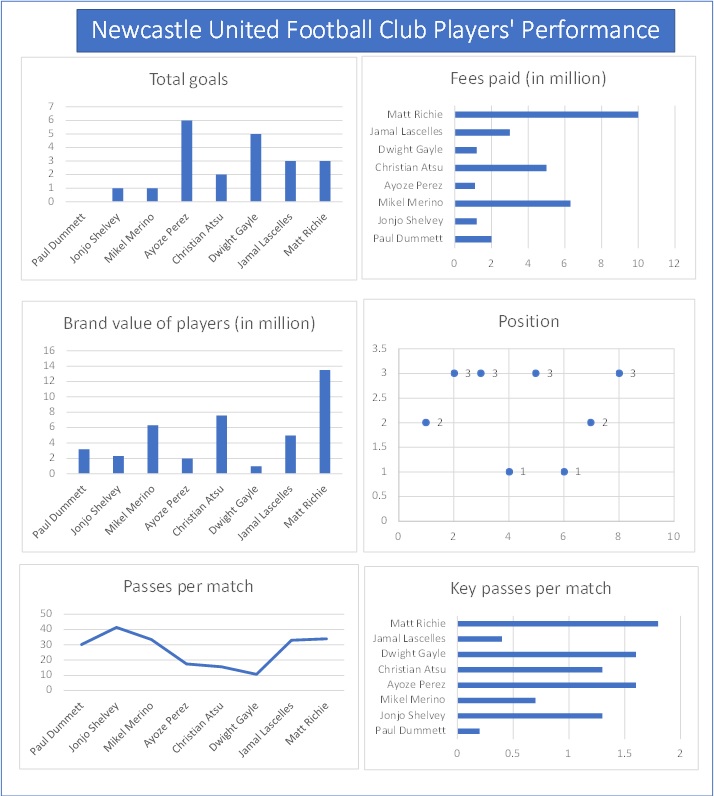 Regression Analysis
| | |
| --- | --- |
| Number of Observations Read | 8 |
| Number of Observations Used | 8 |
Analysis of Variance


Source


DF

Sumof
Squares

Mean
Square

F Value

Pr>F

Model

1

2.78713

2.78713

0.25

0.6376

Error

6

67.98787

11.33131

Corrected Total

7

70.77500
| | | | |
| --- | --- | --- | --- |
| Root MSE | 3.36620 | R-Square | 0.0394 |
| Dependent Mean | 3.72500 | Adj R-Sq | -0.1207 |
| Coeff Var | 90.36782 | | |
Parameter Estimates

Variable

Label

DF

Parameter
Estimate

Standard
Error

tValue

Pr>|t|

Intercept

Intercept

1

4.52678

2.00748

2.25

0.0650

Totalgoals

Totalgoals

1

-0.30544

0.61587

-0.50

0.6376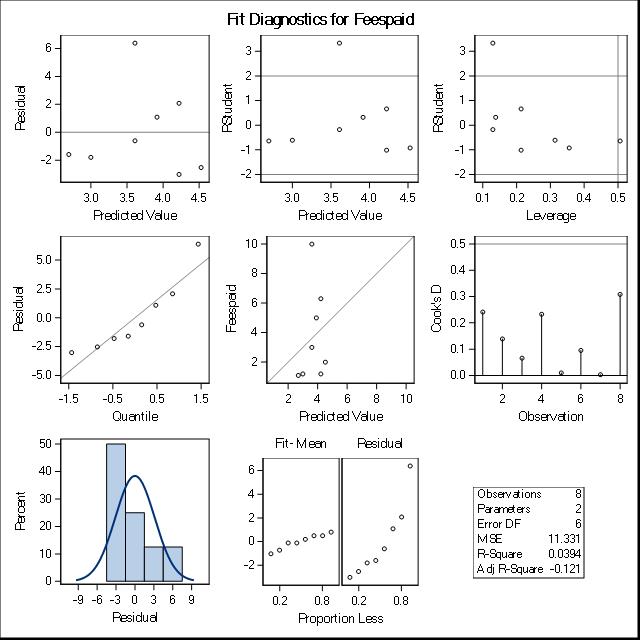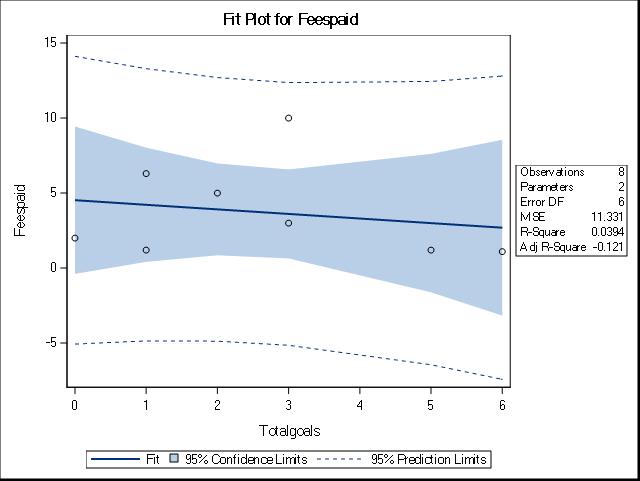 Cluster Analysis
Eigenvalues of the Covariance Matrix

Eigenvalue

Difference

Proportion

Cumulative

1

118.597151

118.089860

0.9934

0.9934

2

0.507291

0.227399

0.0042

0.9977

3

0.279892

0.0023

1.0000
| | |
| --- | --- |
| Root-Mean-Square Total-Sample Standard Deviation | 6.30831 |
| | |
| --- | --- |
| Root-Mean-Square Distance Between Observations | 15.45214 |
Cluster History

Number
of
Clusters

Clusters Joined

Freq

PseudoF
Statistic

Pseudo
t-Squared

Norm
Centroid
Distance

Tie

7

OB3

OB7

2

214

.

0.0738

6

CL7

OB8

3

147

2.5

0.1007

5

OB4

OB5

2

104

.

0.1769

4

OB1

CL6

4

75.2

7.6

0.2185

3

CL5

OB6

3

52.5

6.3

0.3836

2

CL4

OB2

5

44.1

17.2

0.5698

1

CL2

CL3

8

.

44.1

1.2819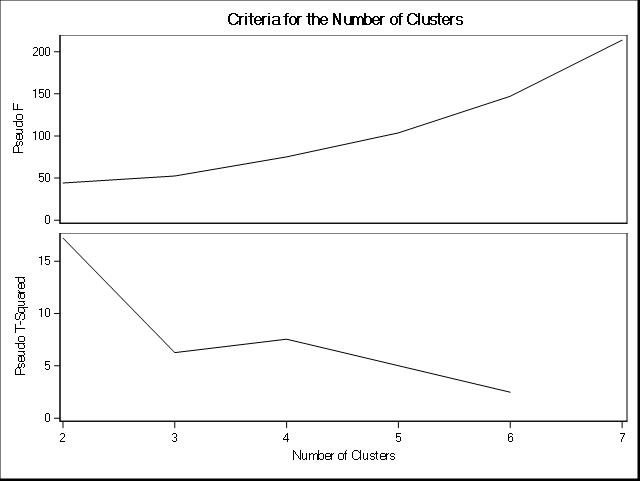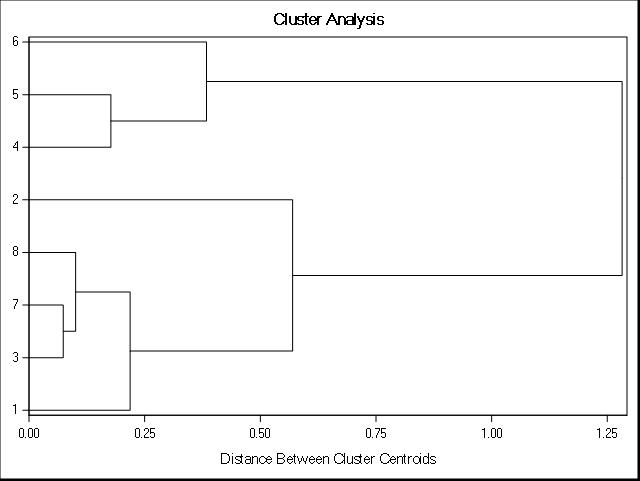 4. Critical analysis and providing justification of using DA / BI
Excel Dashboard
It can be analysed from the dashboard that Ayoze Perez which has the most 6 goals in whole squad. Other players have less goals such as Dwight Gayle scored five goals, Jamal Lascelles and Matt Richie has collectively six goals. It can be interpreted that despite Ayoze Perez has scored more goals, fees paid is less. While, other players who scored less quantum of goals and as such, it is required that payment should be made in accordance to their performance.
Regression Analysis
This is the most helpful statistical tool which helps in analysing the relationship between the dependent and independent variables. It helps in bringing the accurate outputs and the clear analysis over the facts that the relationship among two different variables. Thus, the use of such techniques in analysing the outcomes will bring comparatively appropriate information which insists in proper decision making. Similarly, there has been consideration of the variables like Goals and fees payable to the players for Newcastle United Football Club. The analysis will be based on the number of gaols made the players in a period as well as the fees payable to them in certain period.
In relation with the outcomes derived from the regression analysis with insists the F value as 0.25 (<0.50) this is comparatively lower than the natural values. Therefore, it can be derived here that the null hypothesis will be followed. In addition to this the R square has been obtained by this analysis which reflects the outcomes as 0.0394 and the adjusted R square is negative such as -0.1207. However, the impacts of negative outcomes it can be said that there is not significant relationship among the number of goals and the fees payable to the players (Vyas and Uma, 2018). Thus, it can be said that if there has been rise in the fees payable to the player which will reduce the goals made by them. Therefore, here the requirements of training is quite needed which will make improvements in their efficiency level.
Cluster Analysis
Cluster method is useful as it makes grouping of similar objects. This is effective method and it can be seen from the analysis that there is similarity between players passes per match, jey passes per game. Hence, overall passing performance is similar and no difference is observed.
5. Conclusion and recommendation for using DA / BI in the football club
It can be concluded from the above report that players' performance should be the parameter for making payments. If players' scores more goals, fees should be paid high and if poor performance is there, then fees should be paid less. It is recommended that database should be maintained in which each players' performance on daily game basis should be recorded in SQL server. Moreover, positions of players should be changed frequently so that performances can be enhanced in a better way.
References
Kollwitz, C., Dinter, B. and Krawatzeck, R., 2018. Tools for Academic Business Intelligence and Analytics Teaching: Results of an Evaluation. InAnalytics and Data Science(pp. 227-250). Springer, Cham.
Leon, L.A and et.al, 2018. Skills and Competencies Required for Jobs in Business Analytics: A Content Analysis of Job Advertisements Using Text Mining. InOperations and Service Management: Concepts, Methodologies, Tools, and Applications(pp. 880-904). IGI Global.
Vyas, V. and Uma, V., 2018. An Extensive study of Sentiment Analysis tools and Binary Classification of tweets using Rapid Miner.Procedia Computer Science.125. pp.329-335.